Design, Carve, Print: Block Printing on Fabric!
During this online class, I use videos, photos, and a private Facebook group to guide students through the process of creating print-worthy designs, carving blocks, and printing simple repeat patterns on fabric.
Registration for the February 3 – March 15, 2018 session is now closed.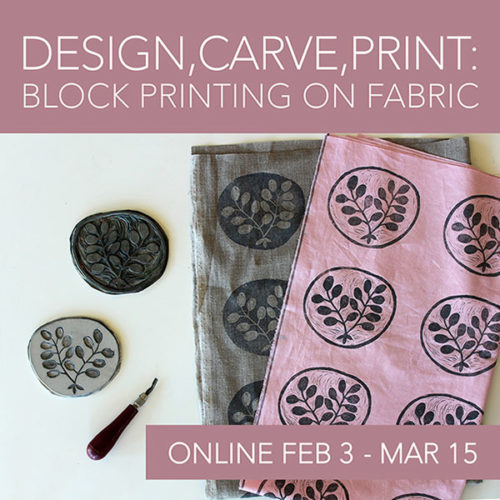 Here's what students have said about Design, Carve, Print:
"This class was a breakthrough for me. The instructions were so clear and I learned so much, so quickly that eluded me in trying to teach myself. You had the lessons well prepared and clearly filmed. I am a big fan of online learning thanks to you!" – Debbie
"This class gave me the confidence I needed to take my printmaking to the next level. All those fabric-based projects I've had on my mind I can now do! Thank you so much Jen! And thanks to my classmates for being so inspiring and supportive! You rock!" – H.
"So nice to learn in a great creative environment with people who 'get me' and don't get that glazed over look to their eyes when I start rambling on about what I'm making and excited about. Thank you." –Sarah
"I had an amazing time and learned a ton and got to make so much stuff.
This is something I have continually struggled with, getting over myself and just making something, anything. I never thought that an online class would help me out so much in that department." – Barbara