Design, Carve, Print: Block Printing on Fabric!
During this online class, I use videos, photos, and a private Facebook group to guide students through the process of creating print-worthy designs, carving blocks, and printing repeat patterns on fabric.
Registration for the June 24 – August 6 session is now closed.
I do not add anyone to the class after registration closes.
The next session will take place in the late fall; please sign up for my newsletter  if you'd like to be notified when registration for the next session opens.
On June 24 and 25, I will launch the lessons in real time, and am present throughout the weekend to answer questions and provide feedback But even if you are not available on June 24 and 25, you can still take the class. The classroom will remain open until August 6. One of the reasons that I scheduled the class for a weekend is that once you get started with the block printing process, you won't want to stop (really!). So, rather than stretch the course out over a few weeks, I decided to release all the materials over two days. You can work with us during those two days, or watch the videos at your own pace – an especially good option for those outside the US who may not be anywhere close to the PDT time zone. Of course, if you take the course on June 24 and 25, you can still refer back to the videos and class notes until August 6.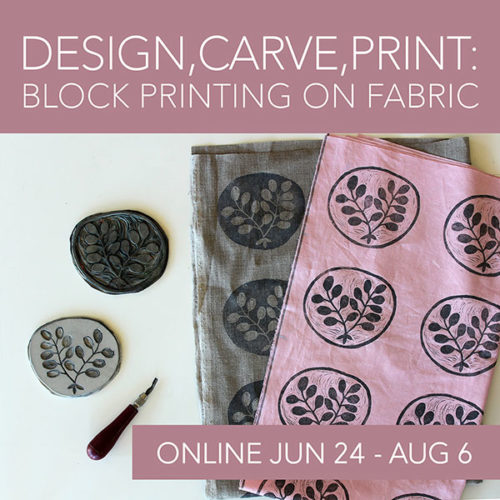 Here's what students have said about Design, Carve, Print:
"This class was a breakthrough for me. The instructions were so clear and I learned so much, so quickly that eluded me in trying to teach myself. You had the lessons well prepared and clearly filmed. I am a big fan of online learning thanks to you!" – Debbie
"This class gave me the confidence I needed to take my printmaking to the next level. All those fabric-based projects I've had on my mind I can now do! Thank you so much Jen! And thanks to my classmates for being so inspiring and supportive! You rock!" – H.
"So nice to learn in a great creative environment with people who 'get me' and don't get that glazed over look to their eyes when I start rambling on about what I'm making and excited about. Thank you." –Sarah
"I had an amazing time and learned a ton and got to make so much stuff.
This is something I have continually struggled with, getting over myself and just making something, anything. I never thought that an online class would help me out so much in that department." – Barbara