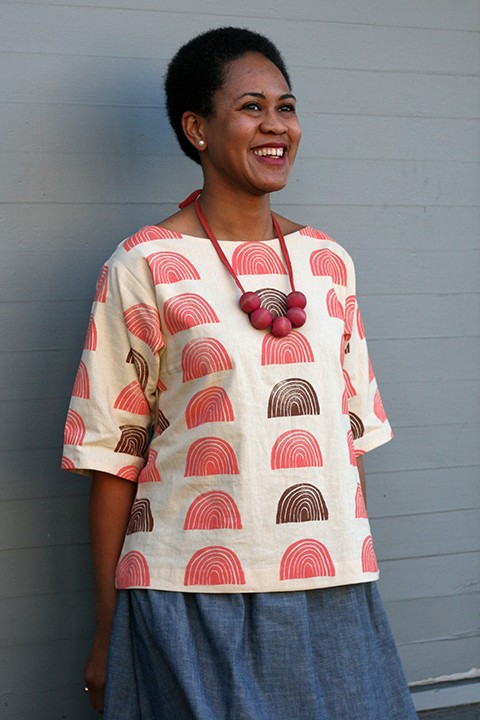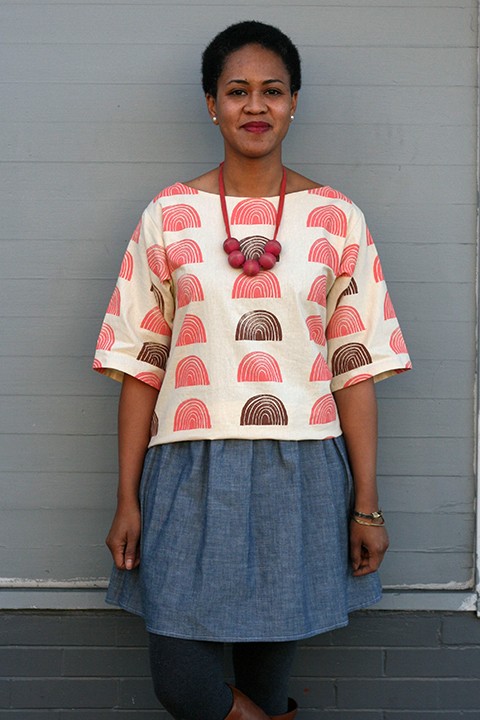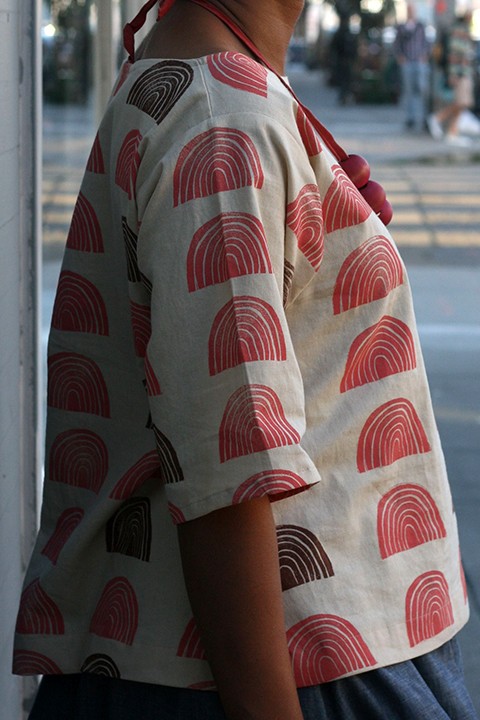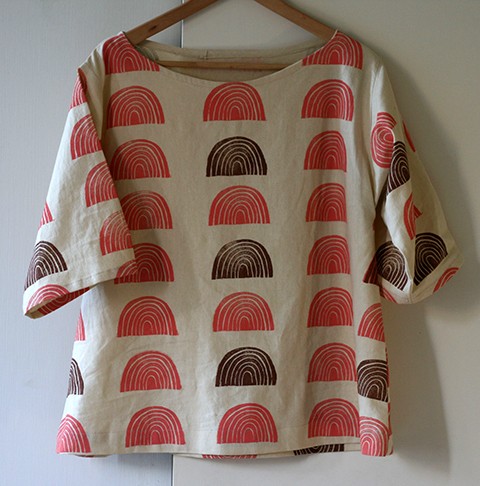 January
Two-color block print on linen/cotton fabric
Garment Pattern: Sonya Philip's Tunic No. 1 (however, I altered the neckline)
Fabric: Robert Kaufman's Essex, in Ivory
Ink: Custom mixed (by me) screenprinting ink from Blick
Photos: Stephanie Dodaro
Three years ago, I decided I was moving back to Los Angeles (where I'd grown up), buying a house, and quitting most of my HR consulting so I could focus on being a working artist. Common sense would say that you should only make one drastic life change at a time; any more than that is so overwhelming that you're pretty much doomed to fail.
I never did make that move.
This month, when I embarked on my Print, Pattern, Sew project, I decided to screenprint a repeat pattern on silk, then sew the fabric into a garment using a new-to-me sewing pattern. I'd never printed on silk before, and, while I'm a fairly skilled (and experienced) screenprinter, I'd never silkscreened a repeat pattern.
Add to that a design that looked great on paper, and which I rushed to execute without really developing it. I violated Rule #1 of being an artist: don't publish your first draft.
So, yes, my plans were pretty much doomed to fail. A few hours at the big studio, attempting to silkscreen a repeat pattern onto silk confirmed this. Back to the drawing board (literally), except with just three days until this month's garment was due.
Ira Glass has a great piece on being a beginner. In essence, he says that all of us who become storytellers (or artists, or designers) get into it because we have good taste. But the ideas we have in our mind often require more skill to execute than we actually have when we're starting out. And, you guys, I am, in many ways, a beginner when it comes to this project.
That, however, is why I am doing this project. I really want to stretch and grow, and do things that are just a bit beyond my skill level. Yes, I took the slightly easier (though no less time-consuming) way out and block printed this fabric, albeit on a fabric I'd never printed on before. But I'd never printed yardage before, and I'd certainly never sewn my fabric into a garment.
So, here you go: January's garment. I like it a lot. I'll probably shorten it (some of the photos show it folded up) at some point, but I think it's really good for a first try.
Now it's time to take my slightly evolved skills and start working on my February garment.
p.s. I'm closing registration for Design, Carve, Print this Wednesday! I hope you'll join me in the class.