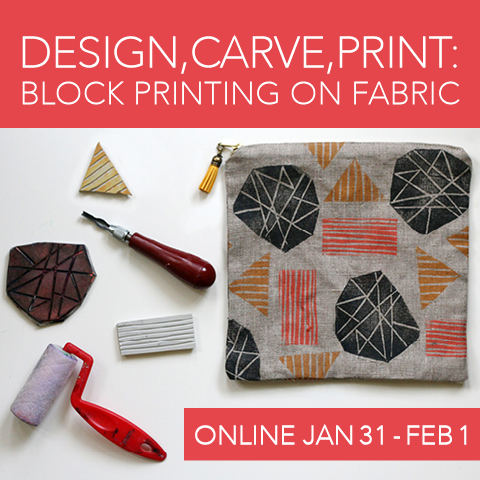 For the past few months, I've been teaching in-person block printing classes to everyone from people who didn't think they were creative, to independent artists, and to textile design teams at some of the largest clothing designers in the US. I'm regularly asked to teach in different cities, but can't easily travel all around the world to teach (I mean, who would watch Gus?). So, FINALLY, I'm teaching an e-course, Design, Carve, Print, which will use videos, photos and handouts to guide students through the process of creating their own blocks and printing their patterns.
The course will take place on January 31st and February 1st, and will be accessible to students until March 3rd. Students will also have access to an exclusive Facebook group, where they'll be able to ask me questions, as well as network and get feedback from their classmates.
Intrigued? Want to learn more? Ready to sign up? All of that (and more!) is here. I hope you'll join me!