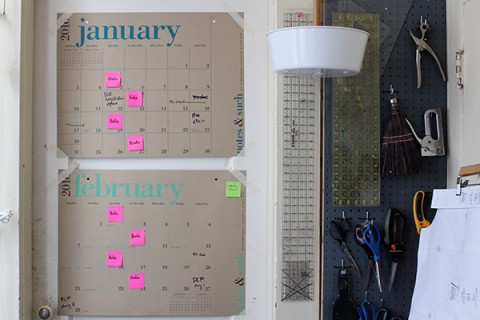 As you've probably figured out. I'm a highly visual and a very tactile person. I'm also fairly busy, juggling a lot of projects and tasks at any given time. But I'm not naturally organized, which means that I've had to create organizational systems that work with my, um, creative nature in order to stay on top of things. I have never found a digital system that works for me, so I rely (mostly) on a few, very Luddite, paper-based systems.
I posted a photo of my studio the other day, and received a number of comments about the to-do list that hangs on my studio wall. And my most popular blog post ever is not about my work (I don't take it personally), but about how I kept myself organized when I was working a number of day jobs, as well as keeping a studio practice.
So, I thought I'd write a post about how I've been keeping myself organized and motivating myself to get my work done.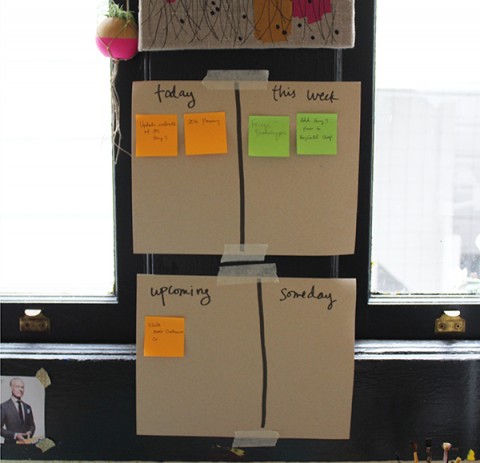 This is how I structure my to-do list these days. It's pretty straightforward – I hang two sheets of paper on my wall, dividing each sheet into two sections. One sheet is for tasks/projects that need to be done either that day or that week; the other sheet is for tasks/projects that aren't pressing, but which are on the horizon, as well as projects I'd like to work on someday.
I write everything out on post-it notes (I have a color key for different projects and different aspects of my work), and then move them around as I complete tasks, or as deadlines change. This system keeps me super focused on a daily and weekly basis, while still allowing me space to think about the long term. I always have a bunch of dream projects hanging in my "Someday" quadrant. And I do have a lot more tasks/projects on my plate right now; I'm just not willing to share them publicly yet!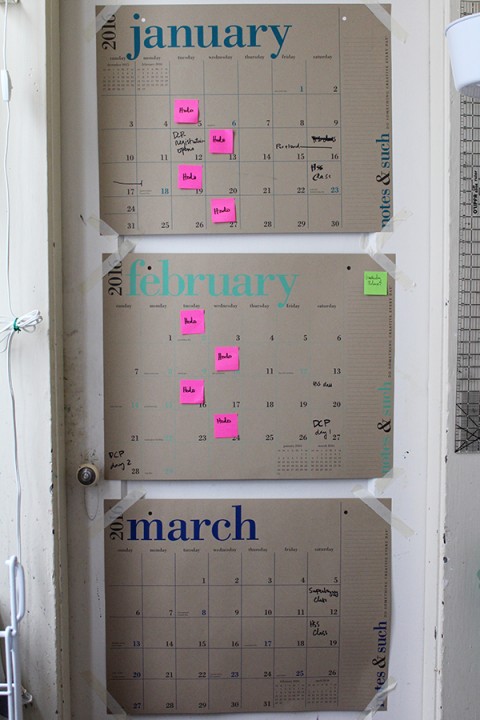 Ah, my Paper Source calendar. I hang three months at a time on the back of my studio door. I'd hang the whole year up if I had that kind of wall space! I note important dates – classes, launch dates, photo shoots, due dates, etc. – on here (using post-it notes for things that are flexible, and writing directly on the calendar for confirmed dates). I'm often working on more than one project at a time, and I need to be able to get a big picture view of my schedule each month. I do copy everything into my Google Calendar so I can refer to it on the go, but I rely mainly on my wall calendars.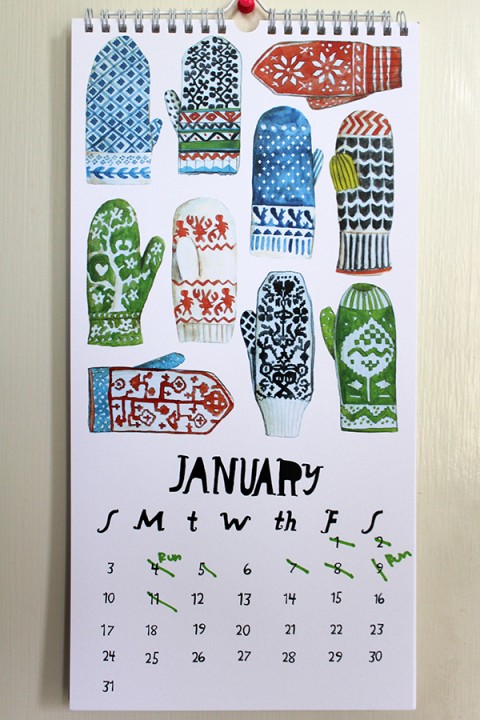 This is my workout calendar (a gift from my friend Lisa; now sold out), and yes, working out is related to my work. I injured my neck and upper back (from poor desk ergonomics at my first job after college) when I was in my early twenties. That injury is mostly healed, but printmaking is very physical work. In order to prevent flare ups of the old injury, and to maintain the stamina needed to print regularly, I have to keep myself physically strong. I go to the gym at least five days a week, crossing off each day that I work out on my calendar. It's a great motivator – I don't like seeing many unchecked days on my calendar, and I often challenge myself to see how many days in a row I work out (my record is 21 days in October 2015).
By the way, Jerry Seinfeld uses a similar system to motivate himself to write every day. It's a great way to build any type of habit.
And with that, I'm off to the gym. Happy organizing!