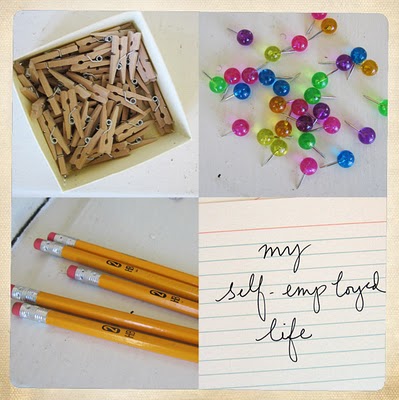 Since I've started consulting, I've found that I've become more organized than ever. I'm not a naturally organized person – I have an unusually good memory that I relied on until my late twenties – but I developed a love of simplicity and systems at a pretty young age. This probably (okay, mostly) stems from the fact that I've dealt with anxiety for as long as I can remember. With anxiety, you can do one of two things: ignore what makes you anxious until it's ballooned out of control, or create a time and a place for all the little things that stress you out so that they look manageable.
I, of course, chose the latter.
The way I see it, there are three reasons that we don't prioritize, organize and move forward. The first is a fear of whatever it is we're supposed to do. The second is plain old laziness (which is really related to the first, but that's a story for another post). And the third is that we're just overwhelmed by everything that needs to be done.
Assuming that you're not lazy (and if you're self-employed or contemplating self-employment, then you're certainly not), you're probably dealing with the first and the third issues. I'll deal with that first issue – fear – another time. Today, I'll share a really simple tool I use for organizing myself so that I'm not overwhelmed by everything I need to do.
My secret? Post-it notes!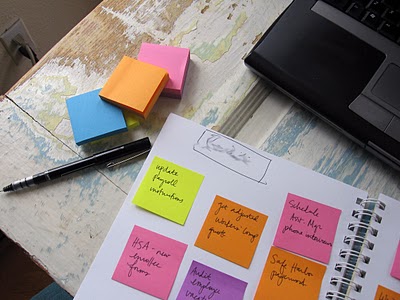 I love post-its (and no, I'm not being sponsored by 3M, but if 3M would like to send me a truckload of post-its – and preferably the mini size in a variety of bright colors– I wouldn't refuse that delivery). My organizational method is similar to the old "post-it-on-the-computer-monitor" method, except that I stick them all into a notebook – an organized notebook.
As you may know, in addition to being a working artist, I also work for a number of small food manufacturers as an HR consultant. This means at any given time, I have tasks for at least three clients that need to be managed, as well as tasks for blogging and printing. I tried at first to use the task list feature of Google Calendars – too much work to manage, especially when I was on the bus or in a client meeting and didn't have my computer in front of me. I'd also toyed with TeuxDeux, which is beautifully simple. It was, however, too simple for my needs and still required a computer. To-do lists were just problematic – I was constantly moving tasks from one page to the next, which took too much time. In a fit of inspiration, I settled on a simple, inexpensive solution that uses a notebook (free swag from a gym I never joined), a pack of mini post-it notes (under $3.00 for a colorful pack), and a pen. Yes, folks, that's it. For a few bucks and very little setup time, you can become a master of task management.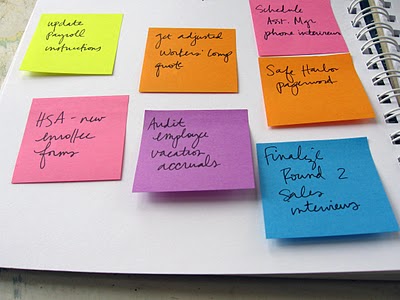 Here's what I've done:
1.  In one notebook, I set up two facing pages for each of my clients. A spiral notebook is best because it lies flat when open. I have a separate notebook for my art stuff, but could easily incorporate that into one notebook if I wanted to.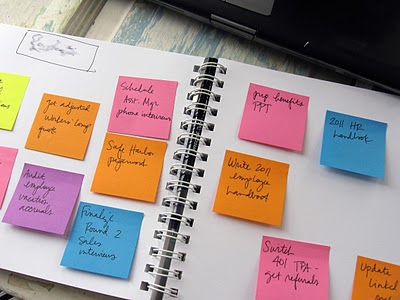 2.  Every time I have a new task that needs to be accomplished, I write it on a post-it note. If it's pressing, I put it on the left page. If it can wait a couple of weeks, I put it on the right side. The beauty of this is that if I'm working with one client and think of something that needs to be done for another, I jot the task on a post-it, flip to that client's section, and stick it on the appropriate page.
3.  When I sit down to work for one of my clients, I open my notebook to their special section. I can see laid out in front of me everything that needs to be done. As I complete a task, I remove the post-it note and throw it away (ah, closure). The goal is to have an empty page by the end of the day.
4.  After I've completed a bunch of tasks, leaving the left page almost clear, I can start moving post-its from the right page to the left page.
5.  On the inside back cover of my notebook, I stick a bunch of blank post-it notes so that I always have them handy. This notebook travels with me from one client site to another.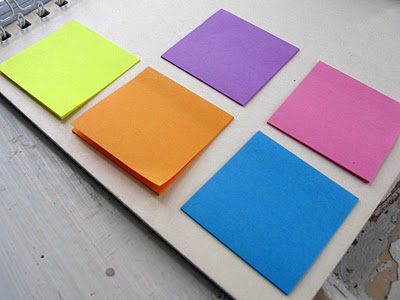 6.  If I go somewhere without my notebook, I'll jot things onto post-it notes (I keep a pack in my purse) and then will stick them into my notebook when I've returned to it.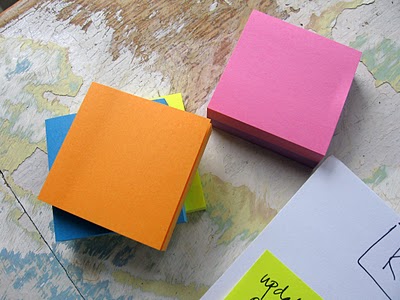 There is absolutely nothing fancy about this. I don't even color code the post-its. One of my beefs with most organizational systems is that they force you to do something that feels like extra work, a chore.  I prefer a system that requires almost no maintenance and no special equipment.
Now, there are other things that help me stay organized: I have scheduled days to work on-site with clients, I use Google calendars (which syncs with my iPhone calendar) to schedule appointments, and  I'm really strict with schedules and work-life boundaries. But that's information for another post. Get yourself organized first and then we can talk about building a structure around your time. But this is a start – and it's a pretty good one, no?
If you try this system and have questions, comments, successes, challenges, post in the comments. If you have an especially beautiful notebook, send me photos! Maybe we'll start a flickr group.
Like this organization tool? Check out how I used post-it notes to keep myself vaguely organized on vacation in this post!