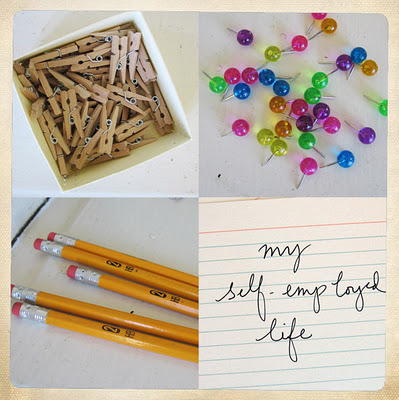 After last week's post about the figuring out the best ways and places to sell my work, a few people directed me to information about selling wholesale. But they didn't realize that I've sold wholesale before – and in a big way.
From 2000-2004, I had a wholesale stationery business. I sold nationally, to stores like Anthropologie, Paper Source, and Kate's Paperie, and, after four years, found that wholesale just wasn't the route I wanted to go any more. Here's why:
Seasonal releases – I was putting together my Christmas collection in March and April because buyers for many stores make their holiday purchases in May.
Trade shows – I participated in 3-5 trade shows per year. In 2004, the total cost for a tradeshow I needed to travel to was around $7,500. This included booth fees, travel and lodging, booth décor and booth freight to the convention centers.
Sales reps – Sales reps represent a number of lines, and sell to stores within a specific region or territory for a cut of the sale (usually 20% for paper goods). A lot of store buyers prefer to meet with reps, rather than deal directly with the manufacturer. Reps need line sheets and samples and new products (so they have an excuse to call on their customers). And reps also needed incentives to present and promote my products.
Terms – Many stores expect to be extended net 30 terms after their first order, which means that I didn't receive payment until 30 days after I'd shipped the store the merchandise. In other words, I had to pre-order quantities large enough to fill orders, then send the order to the store and wait 30 days to receive payment.
Larger production runs – Because of the volume at which I was selling, I needed to order fairly large production runs. For example, one collection might have 24 cards in two different sizes, and I'd need to print 2500 of each in order to get pricing which allowed me to hit my margin. However, some designs sold better than others and I'd have to reorder some pretty quickly, while others languished in inventory.
Cash flow – cash flow was always a problem because of terms, large production runs, constant new releases, and trade show fees.
No time to create – My business was always in the weird in-between stage – it was too small for me to hire an employee to help with customer service and order fulfillment, but too big for me to be able to do everything on my own. I spent a lot of time inputting and packing orders and not enough time on illustration and product development. I'd gotten into this because I love creating products; often, this was the last thing on my list of priorities because I needed to keep the money coming in.
The point I'm trying to make is not that wholesale is bad (it's not), just that it's not for me. Not right now. Selling wholesale was necessary for my stationery business to succeed. I had a low-cost product (anywhere from $2.25-6.25 wholesale) and needed to sell large quantities of products to keep the lights on. But what I'm doing now is different. I have higher-priced items that are produced in smaller quantities. That changes how and to whom I sell.
I'd like to keep my business small enough for me to largely manage on my own. I want to keep production small – with me continuing to print everything by hand. I want to work with a handful of retailers that value my "small-batch" production. I want to continue to sell directly to customers. And if I want my designs to have a wider reach, there's always licensing (which is a whole separate blog post).
There is a way to do this (this post from Design for Mankind describes a clothing designer who has been successful at it) and still make a living. It will take time and a lot of focus. It will take careful marketing and long-term relationships with the stores I sell to – in addition to really great products people want to buy and sell.
Am I up to it? Yes. Yes, I am.