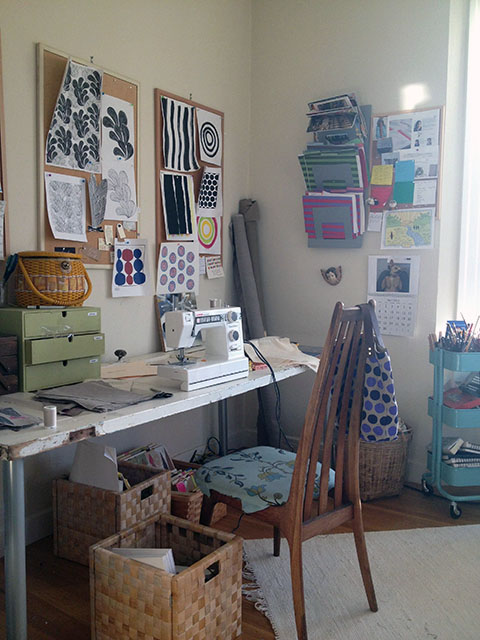 I've long wanted a studio of my own, one separate from my home and all to myself. But San Francisco is expensive. A friend's studio rent increased by 50% in one year; there is nothing close to public transportation or my home (I find driving daily wasteful) that is affordable.
And, honestly, I'm not making enough from my art yet to justify renting a studio.
A couple of weeks ago, I looked around my apartment (spacious by San Francisco standards) and realized that by rearranging a bit of furniture, I could have an almost-perfect work setup. It meant giving up the dream of having regular dinner parties at the large table in the bay window of my home office, but that wasn't too much of a challenge once I realized the last dinner party I'd had there was some time in 2009.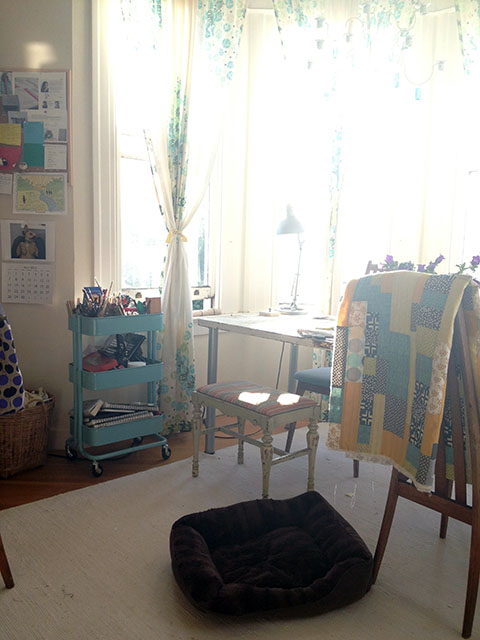 In my office, I now have an area dedicated to cutting and sewing (and ironing – blech), another area for drawing, and a desk solely for work on my computer. This setup has completely changed how I feel about my office. I'm happy to spend hours in there, and I'm able to get so much more work done.
Here are a couple of photos of my office. Next week, I'll share photos of my tiny home print studio (after I tidy it a bit).