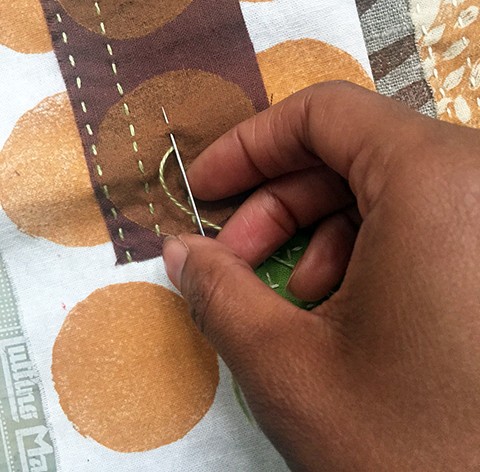 When I left my day job at the end of July so I could focus on my art career, I'd thought that this move would free up some of my time so I could create more. However, the opposite happened – opportunities quickly came along and filled my schedule. I suddenly realized that busy may be my new reality.
I am not complaining about this at all; after all, to quote my friend Lisa, I chose this. But it does mean that, once again, I have to very consciously choose how I spend my time. For now, I choose to focus on creating new work and on seizing opportunities. I choose not to respond to every email (I get a lot of those) or reply to every social media comment (I get even more of those). There is only one of me, and I can only do so much.
I know I'm not alone in this. I follow a well-known food blogger/cookbook author. I love this blogger's writing voice, and admire how much very good work he's able to crank out on a regular basis. Most of all, I enjoy his un-styled Instagram posts of his meals.
But whenever he posts a photo, he gets a zillion questions, most of which fall into two camps: "Where is this?" and "Recipe, please?" One day, a follower posted, "Why don't you ever respond to my questions?"
Before the blogger could respond, another follower said (and I'm paraphrasing) "Leave the man alone, and let him work. If he responded to every question, he wouldn't have time to create new recipes, or write his blog posts and cookbooks." And that is the nut of it. For a lot of us, social media is a tool we use to share and promote our work; however, social media is *not* our work. And every minute spent responding to a comment or answering an email is a minute that has to come from somewhere else.
I am immensely grateful for my following. I know that people follow me because they like my work, and I fear alienating them when I don't respond to every comment or email. However, I am just one person, with a set amount of time. Many of us – writers, artists, business owners – are solo acts, making the best we can with what time we have. Perhaps social media makes our lives seem leisurely, but the fact is that we work just as much as everyone else. We struggle with deadlines and work/life balance just as our followers do.
Which, I suppose, is a very long-winded way to apologize up front for not answering every email, or responding to every comment. Though I try, there is just one of me, and I'm making the most of the time I have to make the work that I share – and to make a living. I hope you understand.