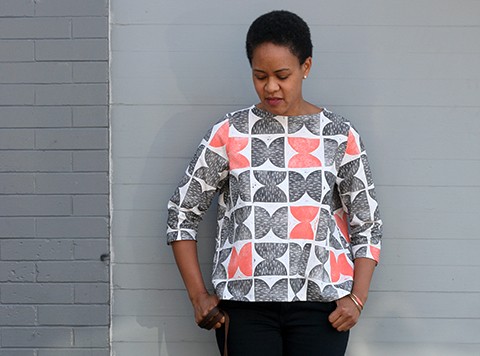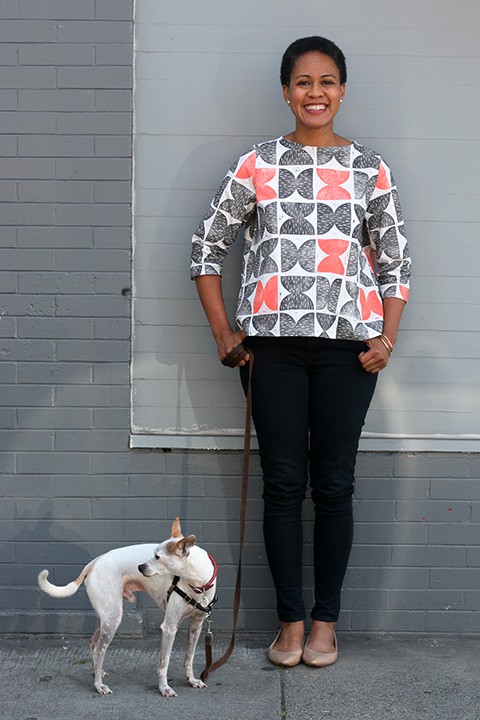 August
Two-color block print on a linen-cotton blend.
Garment pattern: Sonya Philip's Dress #2 (shortened, and with an altered neckline)
Fabric: Robert Kaufman's Essex
Ink: Blick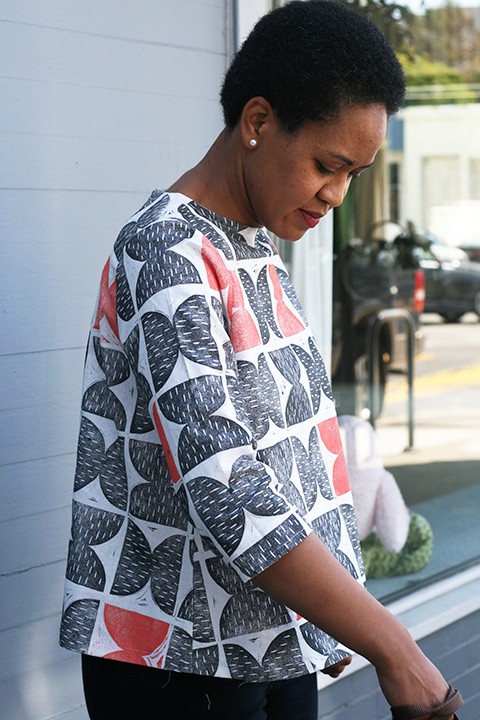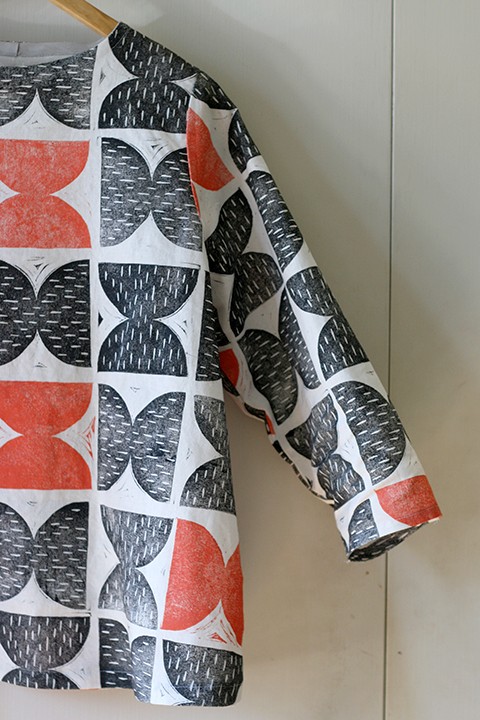 Marimekko released its fall collection this month, so I decided that I wanted to sew a loose, boxy blouse with a large, bold print for August's garment.
The really nice thing about large, bold prints is that they require large blocks. And large blocks mean less printing, because one block covers more space than a smaller one. This was important, since I (once again) find myself really busy. With a show in just over a month, a trip to LA this week, an online class launch in a few days, and a video series to be filmed in a couple of weeks, I am stretched a little thin.
But my monthly garments demand to be printed and sewn. I'm always happy when I've finished a new one, and I must say that this blouse is my favorite garment yet (do I say that every month? I probably do). It was completely worth giving up my Sunday to print the fabric for it.
Which reminds me that I've wanted to talk about the reasons why I don't sell the clothes I make. I'm so flattered by the requests to buy the clothes I make, but the time required to hand print fabric means that these garments would be really expensive for me to make, and for you to buy. Plus, I use a lot of commercial patterns in this project. In order to resell clothing sewn with commercial patterns, I would have to pay a licensing fee to the pattern designer. Then most commercial sewing contractors require that I order a minimum of 200 units (I have no time to sew a lot of garments myself for resale). And, on top of all of that, I don't really want to be a clothing designer!
I love this project because it's just a personal project. I'm doing it to challenge myself, to stretch my skills. So much of the work I do has to have a monetary value; it feels like a luxury to be able to do something for the fun of it.
And, on that note, I hope you enjoy what remains of autumn!