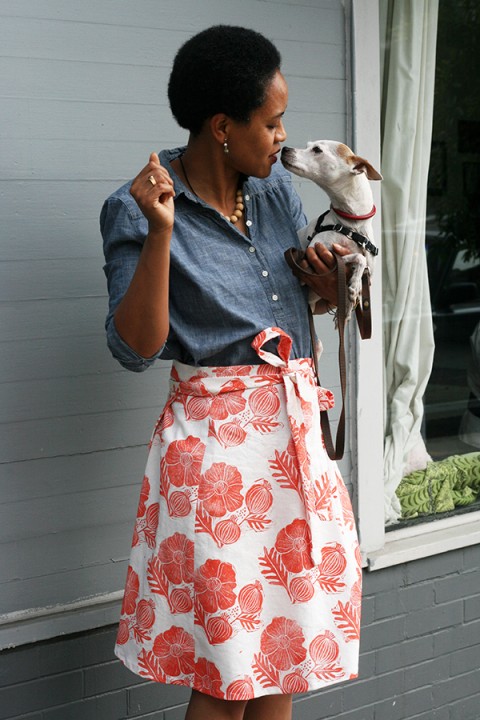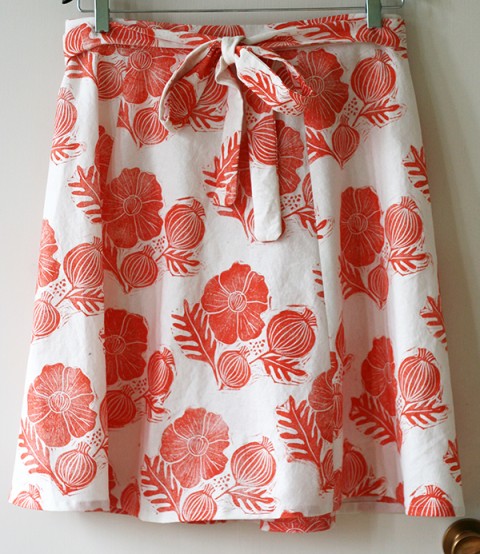 July
One-color block print on a linen-cotton blend
Garment pattern: Tilly and the Buttons' Miette pattern
Fabric: Robert Kaufman's Essex linen-cotton blend
Ink: Blick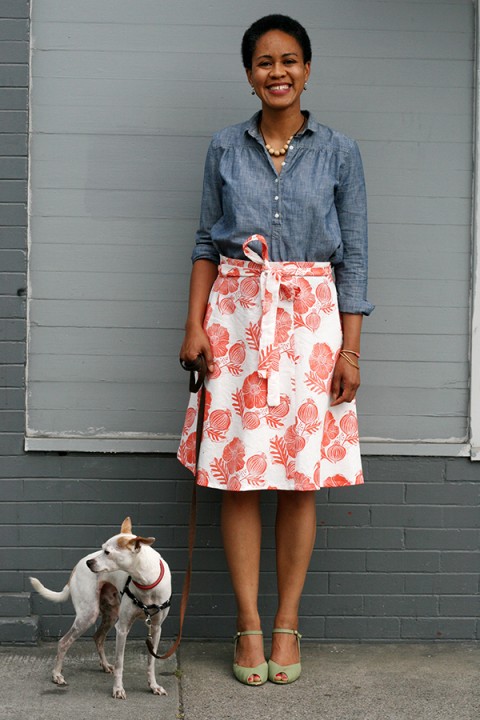 The other day, a teenaged girl walked past me, wearing high-waisted acid-wash jeans and a crop top, and I felt the way I imagine my mom felt when bell-bottomed jeans briefly made a comeback in the early 90s. The bad fashion of my youth (much of which I wore) is coming back, and it's making me feel old.
But then I made this wrap skirt, and remembered that I lived much of my college years in wrap skirts (often with bodysuits, which I will *not* be resurrecting) – and for good reason. They are comfy and flattering and shrink (or expand) to fit one's waistline. After I sewed the skirt in this print, I promptly sewed another one in a striped hemp-cotton blend. And then I paired it with some red clogs, which, I suppose, is something my mom would've done in the Seventies. No, not all fashion flashbacks are bad.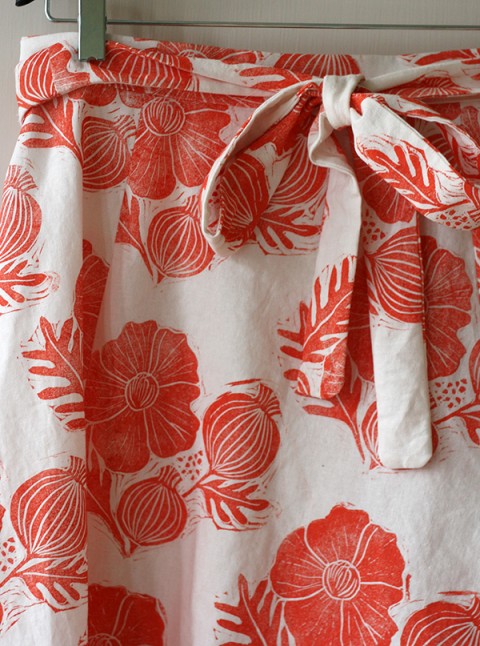 I will say, though, that I really didn't feel like working on a garment this month. Five years ago this month, I quit my last full-time job to start consulting. And two months ago, I gave notice to one of my last consulting clients so I could focus on my art career. That meant that I've spent most of July wrapping up consulting projects, squeezing in tiny bits of creative time where I could. And, honestly, the last things I wanted to do were print yardage and sew clothes.
But that's why I like to give myself these projects – I have to do it. It doesn't matter if I'm not getting paid for this project; I said I was going to do it, so I have to do it. Momentum doesn't listen to excuses. And momentum leads to good things (like a financially viable art career).
I'll sign off now, but will be back next month with new work and a few announcements – and, yes, a new garment. Happy almost-August, friends!