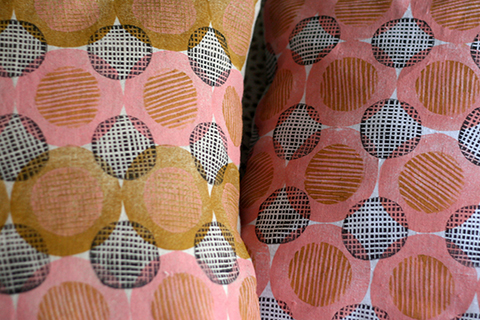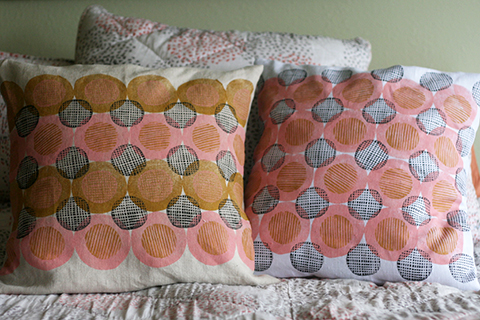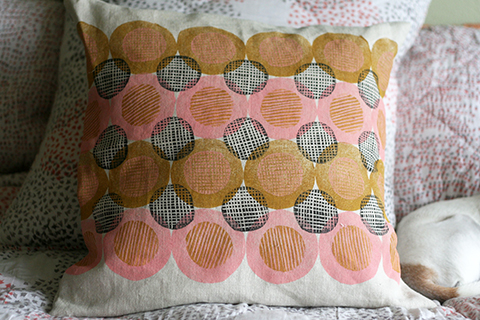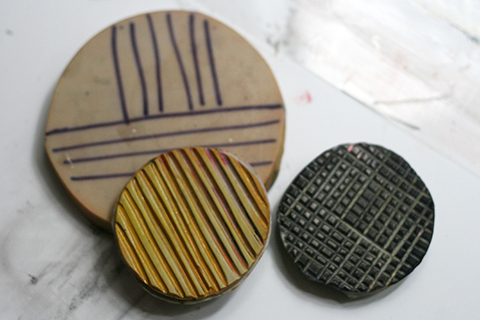 Week 38: Three-color block prints on linen.
Despite promises to myself that I would take most of Saturday and Sunday off, I worked all weekend. I was so excited to start printing my winter collection (I burned the screens last week), so I ignored my own advice and got to screenprinting.
And everything I printed looked wrong.
After a full week of fairly intense (client and creative) work, I really just needed a break. Or I at least needed to start with something simple that was guaranteed to print well. Instead, after an afternoon of failed printing, I felt defeated. I considered just not doing anything new for winter.
That's not unusual at this stage of the silkscreen process; I do all of my original sketches by hand, using paint and ink. Sometimes, the things that look great in watercolor on paper don't translate well (or at all) to a screenprint on fabric. It takes a fairly long process of sketches, transparencies, screen burning, and test prints to discover that something works…or that something doesn't.
That's why I'm starting to love block printing more and more. It's more elastic. I can come up with an idea, carve a block, and futz with color and placement until I get something I like. There are no trips to the Big Studio to shoot my screens, no expensive film to be re-run.
Yesterday, the last thing I wanted to do was print. But since this is a weekly project, I had to get a print ready for today. I worked on some simple shapes, chose a favorite color palette, and went to town. Turns out that was exactly what I needed to do. This week's prints (if you look closely, you'll see they are two different prints) reminded me that I'm not a printing failure, and they gave me a new direction for the winter collection.
(Have you ever seen the documentary "Unzipped" about the fashion designer Isaac Mizrahi? That scene where he's "Nanooked" and has to redo his entire collection in a few days is probably every designer's biggest fear. And we've all been there. I had my own personal Nanook – without the furry boot zeitgeist – moment Saturday.)
Anyway. I love love love this print. Gus loves napping on these pillows. No, I'm not glad I worked all weekend, but I am glad that I pushed through the ish enough to remember why I love doing the work I do.