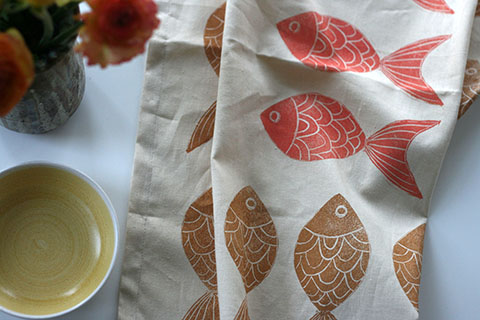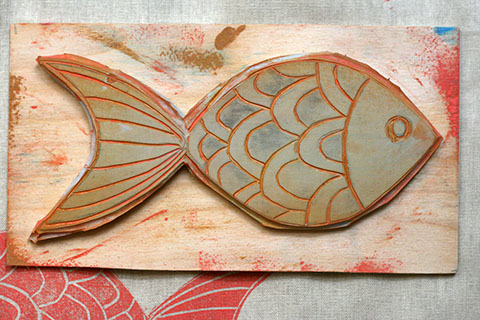 Confession: I usually work on my weekly prints at the last minute. When I first started, I would carve and print on Saturday, then photograph and queue the post on Sunday. Lately, I've been doing everything on Sunday, which means that I spend most of that day working on my studio, instead of doing normal weekend things, like enjoying the weather with a bike ride, or going to brunch, or seeing a movie.
Oh, who am I kidding? It's not like I did those things before I started this project.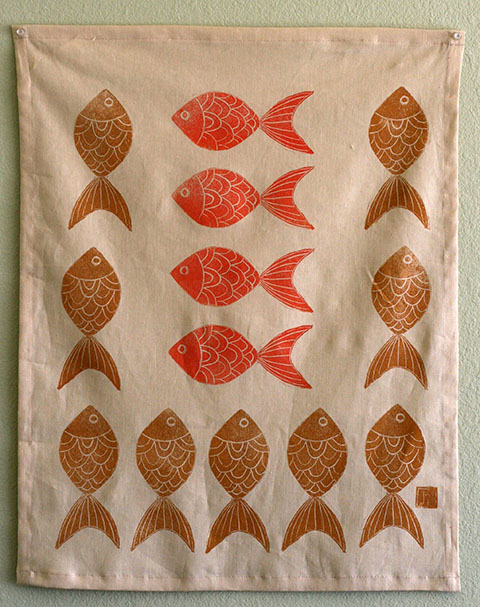 But I do want to start working on my prints far earlier in the week, so that, if an opportunity to go for a bike ride or have brunch or see a movie (or, in this weekend's case, sew 50 bags for wholesale orders) comes up, I don't have to decline because I'VE ALREADY DONE MY PRINT. Like a responsible grownup.
I must say, though, that despite the last-minuteness of this week's print, it is my favorite so far. One, because I finally figured out how to block print with screenprinting ink (thanks again, Susan!), two, because one means that I could print a tea towel for myself, and three, because FISH.
Which all leads me to a question: if I were to teach an in-person block printing on fabric class, would you be interested? Be honest.
Oh, and, the details of this week's print…
Week 11: block print on a linen-cotton blend.