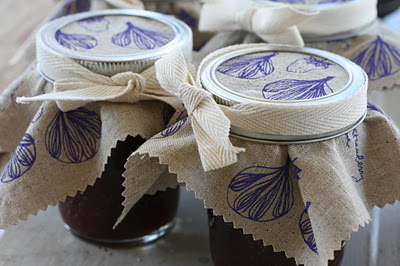 I'm one of those people who loves Christmas. Not the crazy shopping, overeating part of the holiday, but the part that's about spending time with family and close friends, celebrating over meals, and giving small (but meaningful) gifts. Perhaps because I grew up in a religious family, where the Christmas season brought Christmas concerts and Advent Masses, Christmas was way more about creating and celebrating community than about buying stuff. I'm not at all religious anymore, but some lessons have stayed with me.
Anyway. All that was a long prelude to writing about fig and strawberry jam, which I made way back in August to give away at Christmas. I've made apple butter in the past, because apples are one of the few jammable fruits available in the winter, but I had some foresight and picked figs from a friend's tree in LA this summer.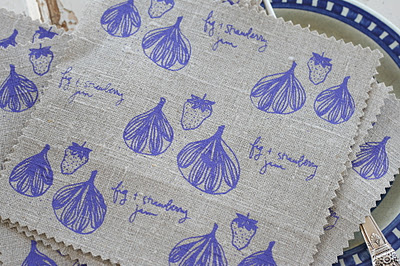 Since I finished canning early, I could spend the weeks leading up to Christmas thinking about packaging. I remembered that Rachel had suggested using my linen scraps for the tops of my jars; but with all this extra time, why didn't I just print some custom linen for packaging? So I did. And then I tied them with a bit of cotton twill tape.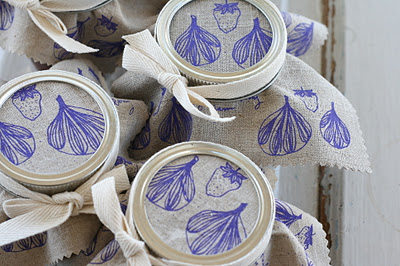 This is the type of gift I like to give – something small, but meaningful, something handmade and thoughtful. No malls, no parking lot fights, no credit card debt. I just hope the gift recipients enjoy the receiving and eating the jam as much as I enjoyed the process of making and decorating it.