The act of taking photos is so different when you're an artist looking for inspiration, rather than a tourist hitting every required destination. Because my dad is a professional photographer, and my mom is a Filipina of a certain generation, childhood vacations became one, big photo opportunity. As kids, my brother and I were endlessly photographed posing in front of Disneyland, or in St. Peter's Square, or on the beach at Waikiki. I grew to resent that kind of staged photo – I wanted to run around and experience whatever place we were visiting, instead of stopping to pose for photos.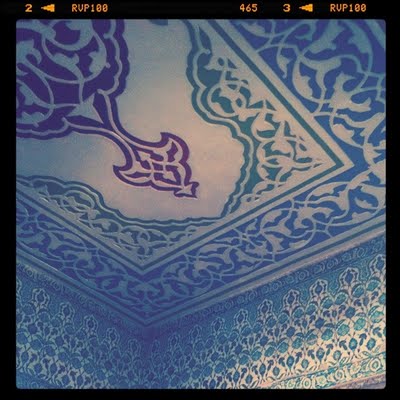 More tile from the Blue Mosque
On this trip, though, my photos are more about documenting inspiration, so that I have something to refer to when I draw hours or days later. If I want the perfect shot of Ayasofya, I'll buy a postcard. If I want to photograph every single tile variation at the Topkapi Palace Harem, well, I can (and I don't even have to be in the photo). The whole experience becomes less about proving that "I was there!" and more about saving a moment of inspiration. I get to just be, rather than think about how the photos will play when I show them to my friends and family.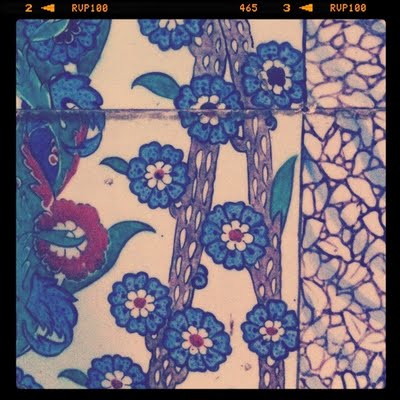 More Harem tile detail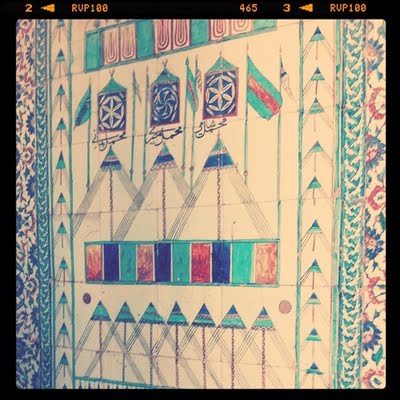 Strangely – but pleasingly – geometric design in the Harem
Of course, I'm showing them to you here. I can't help myself – look at those blues! Look at those abstract floral prints! This city is a source of inspiration for textile designers. 
I've been drawing a lot this week (I have quite a few illustrations to mail out to my
Istanbul sponsors
) and will start sharing those as they trickle in. I have a lot of work – and a lot of inspiration – in front of me!
(I've also posted more photos to my Twitter feed. Check them out
here
)