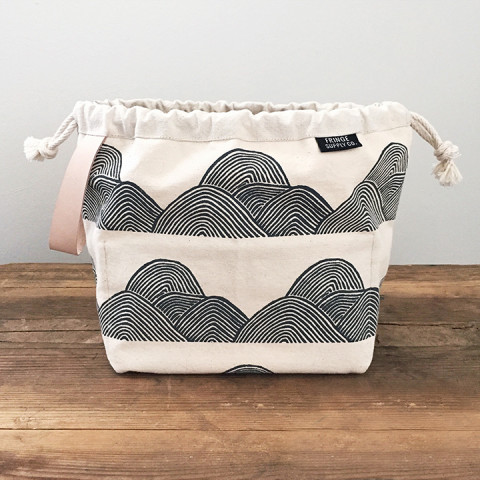 In 2014 and 2015, I created five limited-edition project bags for Fringe Supply Co. It was a fun, year-long collaboration, and Karen (Fringe's owner) and I tried to figure out other ways to work together.
Then, along came Fringe's incredibly popular Field Bags. We decided that I would print the blank, cut canvas for the bags using my Mountains/Clouds print (you may remember the preview I shared here). I printed enough fabric for 70 bags, sent them to Karen (who responded, "They were so beautiful I gasped when I opened the package"). Karen had them sewn by her manufacturing team, and then we launched the finished bags into the world, notifying our respective newsletter subscribers first.
And all 70 sold out in four hours.
We'll be working on something else in the later part of the year. We'll probably offer it to our newsletter subscribers first. If you'd like to have first dibs on it (as well as be notified when I add new classes or launch new products), please sign up for my newsletter.
With that, I'm off to Southern California to teach at Superbuzzy!