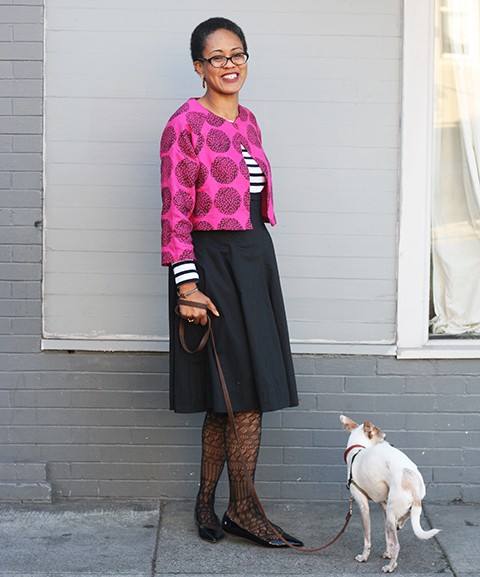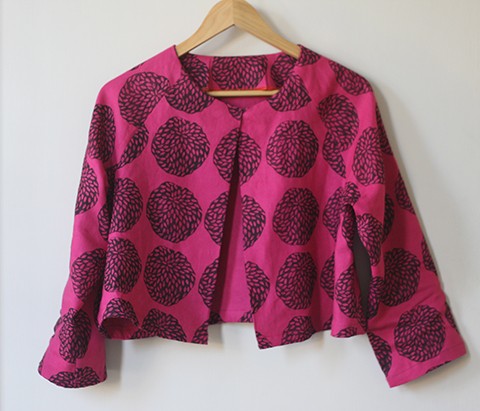 One-color block print on linen.
Garment pattern: Pilvi Jacket from Lotta Jansdotter's book Everyday Style
Fabric: Linen (brand unknown) from The Fabric Store
Ink: Permaset Aqua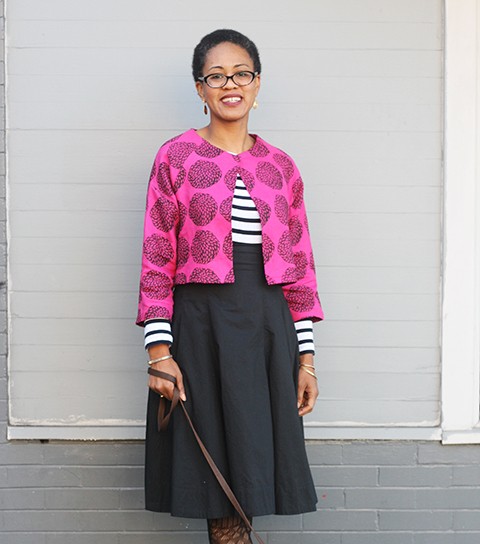 I had a couple of yards of fuchsia linen leftover from a bias-cut dress I'd made for a wedding last month, a block from last year's 52 Weeks of Printmaking project that I really wanted to reuse, and Lotta Jansdotter's new book, Everyday Style. It seemed only natural that I'd put the three together and whip up this month's (okay, November's) garment.
When my friend came over to take these photos, I joked that this outfit was "peak Jen." It has it all – fuchsia jacket, striped shirt, full skirt, patterned tights, pointy-toed flats. I like to think it all works somehow (though my mom will probably have a very different opinion).
I highly recommend this book and this pattern. I've already bought fabric to make gray wool flannel and denim versions of this jacket. Next time around, I'll lengthen the jacket by two inches and might try using Hong Kong seams to make the jacket look a bit more finished.  But I need to get through the rest of this year before I can get back to sewing for pleasure.
Happy December, friends! I'll have two more garments this month, and then I'll put this 2015 to rest.