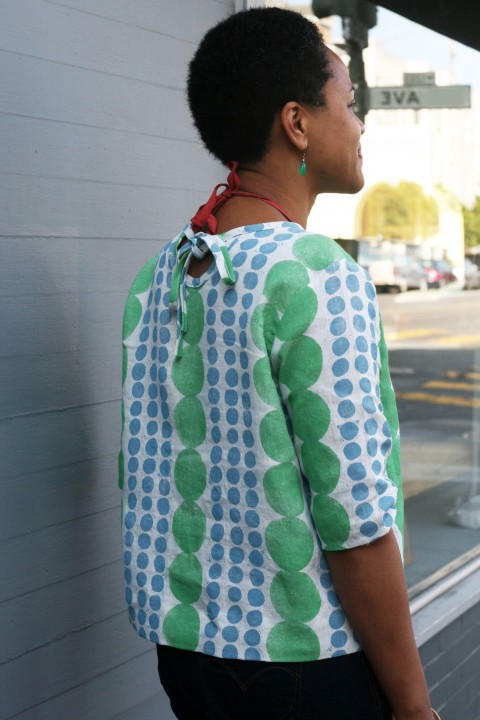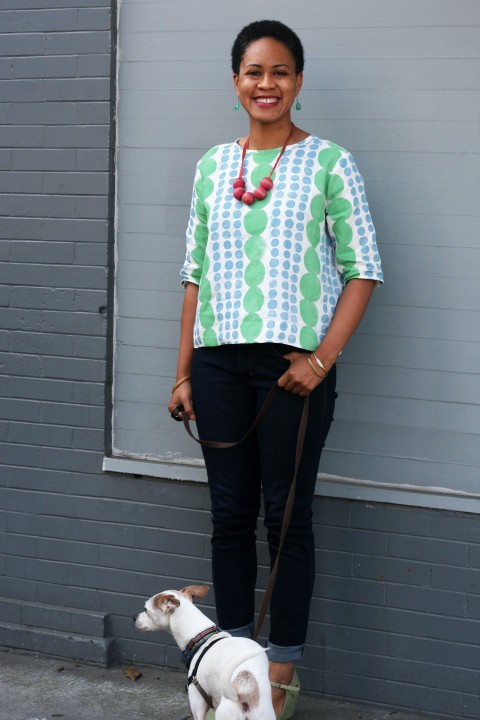 March
Two-color block print on linen
Garment pattern: self-drafted (and not for sale)
Fabric: 100% linen (brand unknown; from my wholesale linen supplier)
Ink: Blick (though I mixed my own colors)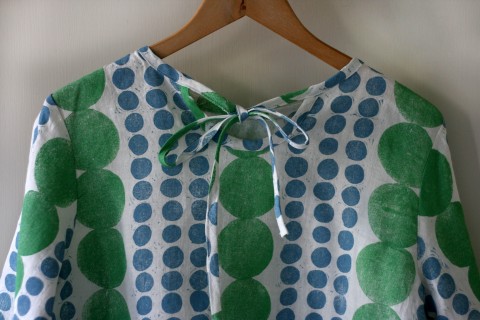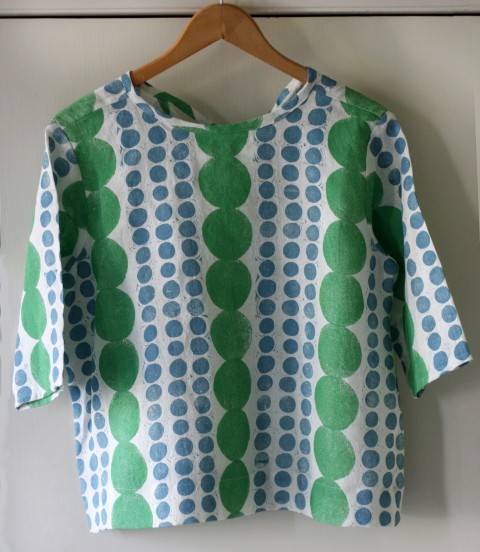 I couldn't find quite the sewing pattern I wanted this month, so I drafted my own, basing it loosely on one of my favorite blouses. I went through the whole process of making a loose pattern on newsprint, sewing a muslin, tweaking the pattern, then tracing the final onto pattern paper. It was labor intensive, but it's so satisfying to have created the perfect summer blouse.
Drafting the pattern also served another purpose – procrastination. Once again, I waited until the last minute to print this fabric. And not because I was busy (which I was), but because I was a bit paralyzed. I loved last month's print, and thought it was one of my best yet. I wanted to make something at least as good as it. Since I'm doing only twelve garments this year, instead of last year's 52 prints, every garment really counts.
That kind of thinking, though, is a total recipe for paralysis. I couldn't make a decision about what to carve so, with four days left in the month, I forced myself to just go with something.
My printing process doesn't always involve sketching out ideas first. I'm sure I've talked numerous times about "thinking with my hands," which is the process of starting with a simple block and then just printing, tweaking, and making additions until I come up with a design I like. Sometimes I have to push myself to think with my hands, especially when I'm busy and experimenting seems like a waste of time.
Forcing myself to just do something usually works for me, but, oh, the resistance! Once I get going, once my hands are doing the thinking for me, I end up in the zone, focused and content.
Here's the result of this month's labor. She's a beauty, isn't she? Maybe procrastination is a good thing after all.