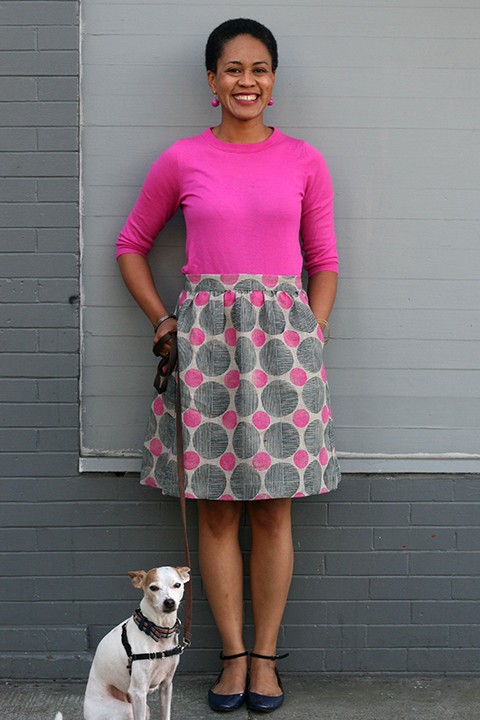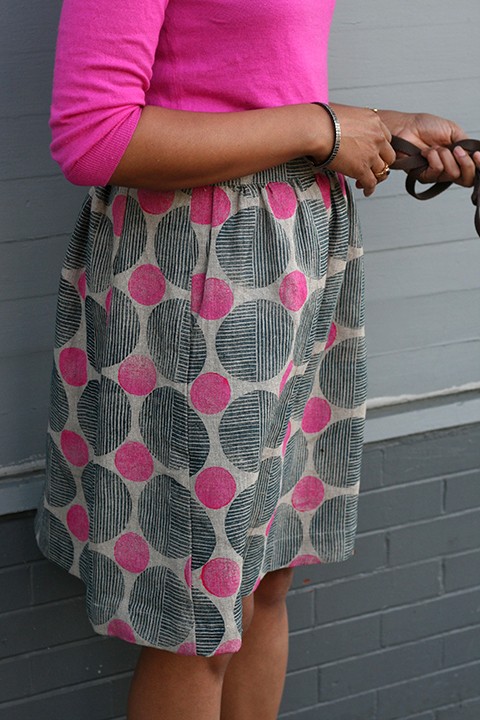 February
Two-color block print on linen
Garment pattern: Liesl + Co.'s Everyday Skirt
Fabric: 100% linen (brand unknown; it's the same linen I use for my bags)
Ink: Speedball and Permaset
Photos: Stephanie Dodaro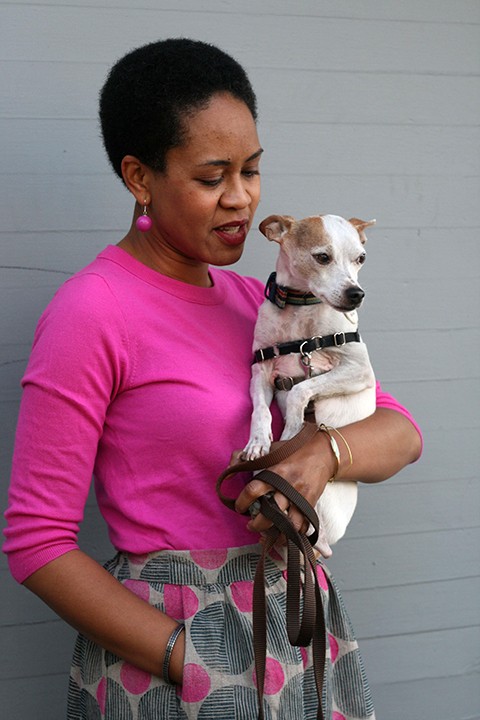 Oh, blasted February, with your 28 (sometimes 29) days! My garment for this month is a few days late, but it's February's fault. When I said I'd post a new garment on the last Monday of every month, I meant every month except February.
I'd planned to make a full skirt with a fitted waistband, but those patterns all seemed to require invisible zippers. I suck at invisible zippers. And because I had three fewer days to finish the skirt, I didn't want to spend a lot of time trying to sew in a zipper correctly. Thankfully, I found this pattern, which has a flat waistband in the front and sides, and an elastic one in the back. Plus, pockets! This was the first time I'd ever sewn set-in pockets.
This skirt was very easy to sew. I'd never sewn a Liesl + Co. pattern before, but the instructions were so easy to follow, and the skirt sewed like a dream. I'm already planning to sew a few more, in other (unprinted) fabric.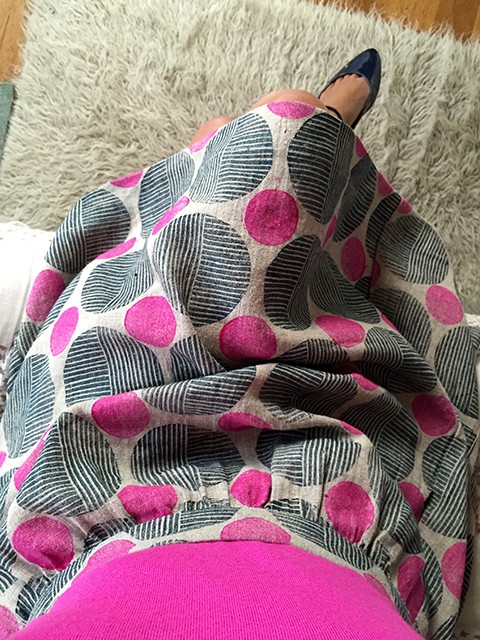 Okay, now can we talk about this print? I didn't create new blocks for this; instead, I found something that I'd carved – and rejected – for last year's 52 Weeks of Printmaking. Since I was mostly working with small pieces of fabric last year, this simple print just didn't look all that interesting on a small scale. It does, however, look great in repeat on a large swatch of fabric. The print probably would have been overpowering on a blouse, or even on a pencil skirt, but it works really well on a full skirt (it would probably look fantastic on a shirtwaist dress, but I didn't have enough time, because February). I hung the yardage on my closet doors to dry, and even considered printing a few scarves. But I'll leave the scarves to Blockshop. I think I was just loopy after having printed for six hours and had ideas that were bigger than my well of energy.
Thankfully, March has five Mondays, so I may try something even more ambitious next month. A dress? Fitted blouse? Skirt with an invisible zipper? You'll just have to stay tuned.