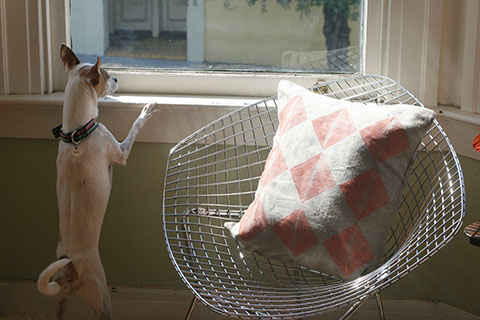 A little over a year ago, Gus and I graduated from Reactive Rover class. Gus was hands-down the most difficult dog in the class, barking nonstop and requiring bags of treats to settle down. He was never called on to complete exercises in front of the class. I was in tears by the end of our first couple of sessions. He was *that* bad.
But I stuck with his training, bribing him into silence on walks with chicken hot dogs, and teaching hm basic commands. By the end of our course, Gus had gone from the worst dog in the group, to the only one who nailed every single exercise (including ones I'd never taught him). When the trainers congratulated us on Gus' complete turnaround, I cried again but, this time, for a different reason.
That was only the beginning, though. Once Gus had the basic training down, it was up to me to reinforce it every single day. Some days are easier than others – Gus won't bark once on our long morning walks, or he'll walk through a gauntlet of dogs, eyes on me (and my chicken hot dogs) the entire time. Other days, he'll bark at flags and cyclists and every eight-year-old boy who crosses our path. He's a work in progress.
And so am I, though I'm often more patient with Gus than I am with myself. I want to accomplish more, lead more classes, sell more things. I want to spend more time on my art practice. I want more press. And I want it all now. But when I take a step back, I can see that like training a dog, growing my art business happens incrementally, through consistency and discipline. My sales are steady. No, there is no graduation, no big retrospective of the past few years. Instead, there are small successes – a new collection, or a small bit of press, or an unexpected collaboration that opens a new market. All of this adds up. I just need to change my perspective.
The other day, while Gus was sniffing, rather than barking at, another dog in the park, a neighbor stopped me to tell me what a good dog Gus was becoming. "You've clearly put a lot of work and love into him," she said. I have. And I need to step back and recognize that all the work and love I've put into my creative life is leading me exactly to the place I want to be as well.