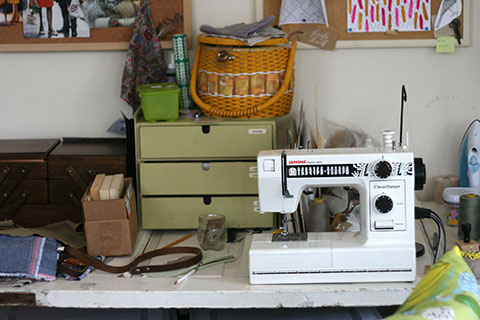 My apartment is always a mess. Surfaces are splattered with screenprinting ink. Many years ago, my apartment was showcased online, but I cleaned it for days before those photos were taken.
I live in a non-trendy neighborhood. I mean, it's a really nice neighborhood with restaurants and cafes and a wine bar, but it's not the kind of neighborhood that hipster trendsetters yearn to live in. Hipster trendsetters don't want to live west of Stanyan and, well, I live west of Stanyan.
I drive a '99 Honda Accord. I'd prefer something zippy and cute, but my car is reliable and paid for.
I'm not yet able to support myself through my art business. I do some mighty unglamorous consulting work to pay my bills.
After I pay my bills and my rent and put money aside for taxes, I might have something leftover for savings.
Since I've become a working artist. I can only afford to live in San Francisco because my apartment is rent controlled.
I love clothes. I don't buy many nice ones these days because I largely work at home and because my clothes, like my apartment, usually end up splattered with screenprinting ink. Also, budget.
I can afford a nice meal out every once in a while, and usually just for special occasions. When I do go out, I tend to enjoy my food and friends rather than try to stage my food for Instagram.
I go for walks with Gus every morning. I usually don't take my phone with me because (1) I like being offline for a bit, (2) I'm convinced I'll get mugged if I walk around the park with my phone out, and (3) it's nice to just experience being outside.
A lot of my friends are artists, but a lot of my friends are not. Some are scientists or sales people. Others work in communications. A couple are stay-at-home moms who don't even have blogs.
I meet with my artist support group every month. Our meetings often take place at CPK where we eat pizza concocted in central kitchens, and drink carafes of supermarket wine, and talk for hours. It's easily the most meaningful night of the month for me.
When I host dinner parties, my friends usually end up sitting on the floor or eating off a TV tray because my studio has taken over my dining room.
My life doesn't look like a Pinterest board, my dinners don't look like food porn, my outfits aren't Instagrammed with nods to the places I bought them. I'm not interested in any of that. My life is uncurated – messy and unglossy and probably not hip – but that suits me just fine. I'm living it for me.