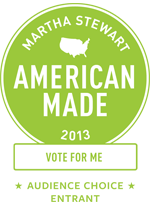 Hey, everyone! I'm an official Martha Stewart's American Made Audience Choice nominee. Yes, it was a self-nomination, but I couldn't help myself. If I win, I'll receive $10,000 in prize money, a trip to the American Made conference in NYC, and a feature in Martha Stewart. Wihoo!
So, if you have a moment, please hop over to Martha Stewart and vote for me. Every day, you have six chances to vote. Thanks!
And yes, I'll return to my regularly-scheduled blog tomorrow.