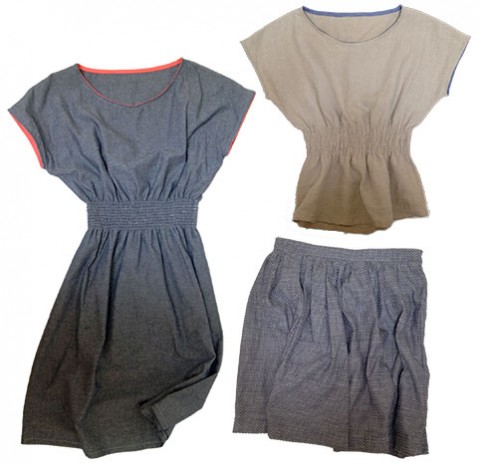 I sewed another blouse this weekend. And then I sewed a skirt. At the end of all of this sewing, I realized I had created the core of a very good summer wardrobe.
I've written (probably ad nauseum) in the past about my love of uniforms. I was picturing myself with a wardrobe of a less frumpy, Ray Eames-inspired core uniform, when I came across a photo of Sofia Coppola. And then I fell down a rabbit hole on Pinterest on Friday night, eventually creating a Sofia Coppola Pinterest board. (Mom, if you're reading this, Pinterest is a very nice bar where all the rich male doctors hang out. Google it.)
I am not ashamed to admit that I have an intense girl crush on Sofia Coppola. Yes, I think she's a talented director, but I admire her incredible personal style at least as much as I admire her filmmaking skills. She is not trendy. Her clothes are classic and yet not stodgy. Her palette is consistent, but her clothes are not boring. She usually looks crisp, yet she dresses in a way that suggests she's not taking her (beautiful) clothing too seriously. And she always looks like herself, like she's comfortable in her own skin.
When I looked at the few things I'd sewn, added to them the white t-shirts and button-downs I'd bought for the summer, then compared them to my SC board, I realized that I'd inadvertently created a SC-style fitted, yet slouchy, uniform. OMG. I am so much like her.
Okay, not really. I'll stop now. Promise.
Tomorrow, I'll go back to posting about art and printing and stuff. But for now, I'll plot out my next sewing projects by revisiting my Pinterest board.