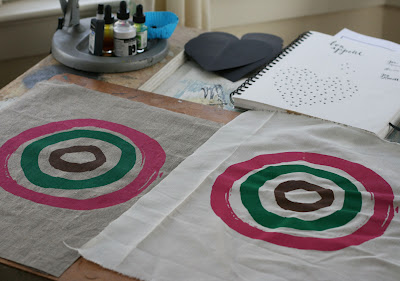 Sometimes designs look amazing in my head, translate nicely into a sketch, but then don't make sense when I print them on fabric and/or sew them into a bag. I have a general idea of what works, but it's not until I actually get out my squeegee and ink and start printing that I'm proven right – or wrong.
Last week, I worked on this abstract target pattern. I didn't end up looking quite the way I'd expected it to. I don't dislike it – and I'll probably recycle the pattern one day – but it doesn't quite have the "oomph" I was hoping for. It feels a bit unanchored on the linen. I may still sew it into a bag for my own personal use, but the target design likely won't make it into the final round of bag prints.
But I'm thankful for this first not-quite-right design. Throwing out one "meh" print makes it that much easier to experiment. It's a loosening-up exercise, a reminder that not everything is going to be perfect all the time.
So, yay, errors! Time to get back to the trial.