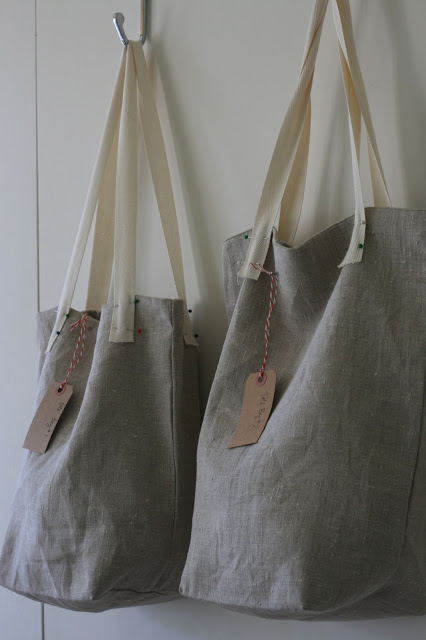 I spent much of my long weekend sewing bag prototypes and keeping records of the tweaks I made with each new model. It felt good to cut and sew, to think about what I wanted the final outcome to be and then figure out how to get to that point. I loved being able to fix mistakes with new iterations, and to come up with a new bag size simply because I played around with dimensions. I suddenly realized that the plain, unprinted linen is so beautiful, and that perhaps a line of unprinted bags would be a nice addition, too.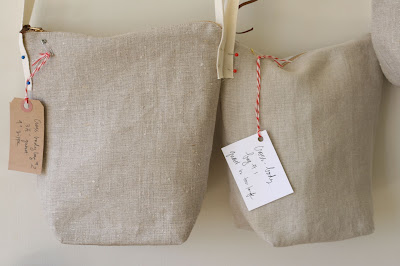 But creating isn't always this fun. Often, at the very beginning of the creative process, I'm plagued with doubt. I question my skills and my talent. I try to talk myself out of getting started. "Does the world really need another bag designer? Isn't the whole silkscreened linen thing totally played out? Why are you even attempting to do something that so many other talented people have already done? Stop doing this until you come up with a truly original idea."
And yet when I unroll a bolt of linen and start cutting, most of those thoughts go away. They come back when I'm not making, but as long as I'm in my creative flow, they're kept at bay.
One of the main reasons I'm a product designer rather than, say, an illustrator or graphic designer, is that I like being able to hold something I've created, to use it and tweak it and admire it. My bag prototypes make me very happy. Whenever I look at them, or make a little change to them, I feel like I'll really be able to do this. I'll be able to make the leap from one bag that I make in my kitchen to a whole line of bags that I have manufactured for me, and that I sell, and that support me financially. This feeling of possibility is incredible. I'll take that over self-doubt and criticism any day.