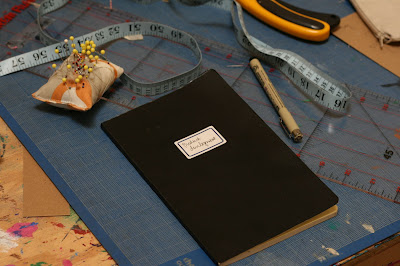 Last week, I told you about my new project, a line of bags and pocket squares. I also mentioned that my goal is to do at least one thing each day to move me closer to launching this project in October. It's been a week since that last post, and I've been making progress. Lots of progress. Here you go:
I took a class about manufacturing in San Francisco.
I re-did my production and launch calendar based on what I learned in that class.
I set up pricing spreadsheets and started my start-up budget.
I changed my client schedule so that I'm only on-site with clients in the mornings (and all day Thursday). This gives me time to meet with suppliers and work on prints in the afternoon.
I started a product development notebook because I'm constantly jotting measurements, etc. down on scraps of paper then losing them.
I made a bunch of bag prototypes in different sizes to help me decide what the final formats are going to be.
I started sourcing leather suppliers (harder than you'd think). 
This week, I'm going to meet with a leather supplier, make an appointment with a pattern maker, and have some friends critique the prototypes. It's going to be a busy one.