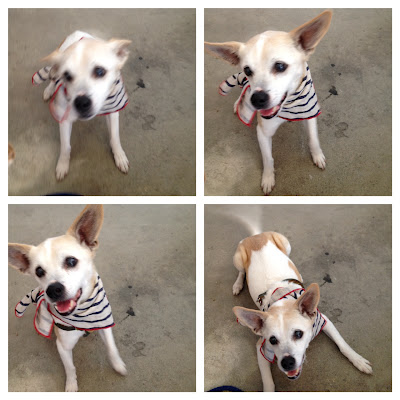 Almost seven years ago, when I had the post-vacation blues and felt like I'd changed, but my life was still the same, a friend sent me a photo of a small dog with ridiculous ears and told me to adopt him. She said once I got him, everything would be better. So I did. And it was.
As you probably know (if you read my blog regularly), I take Jake almost everywhere. While we were on vacation last week, Jake started coughing. I thought the cough was due to the LA heat. But his cough got worse and worse until he was so winded that he collapsed and peed on himself. I took him to the emergency room, where he was diagnosed with congestive heart failure. His heart is enlarged, and isn't pumping blood the way it should.
Dogs with this condition at this stage live, on average, for nine months. But because he's responded so well to his medication and because he is otherwise healthy and strong-willed, his vet said he could live much longer. There are not guarantees; I'll take what I can get.
Someone once told me that the best thing about having a dog is the dog. That's so true. Jake is always in a good mood, is always happy to see me. He's forced me into routines – I must get up early and walk him for thirty minutes each morning, we must stop at neighborhood businesses every afternoon to demand treats – and he's helped me make friends in aloof San Francisco. More than anything, though, he is an amazing, often hilarious, loving companion who demands very little. I can't imagine my life without him.
And so, in some way, it's not a surprise that his illness is due to his large heart. This little guy is pure love, demanding affection from the vet techs who were jabbing him with needles, licking my hands when I was crying at the prospect of losing him. He has made me a better, less selfish person, and has rewarded me with seven amazing years of unconditional friendship.
I don't know how much longer Jake will be with me, but I will welcome every day I have with him, whether he's active and happy, or lethargic and grumpy – because, really, the best thing about Jake is Jake.