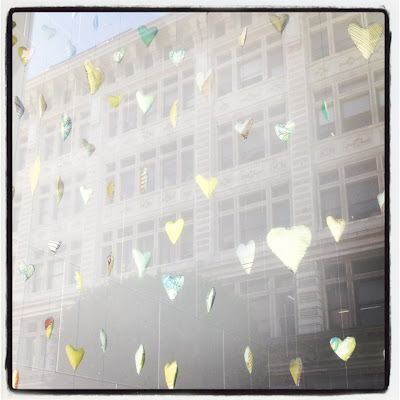 Gallery window in Downtown LA
Six years ago, I dreamed of leaving my full-time, high-stress job to start consulting. I told very few people; most were supportive. But a couple of them did their very best to dissuade me, saying:
"Do you know how hard it is to get health insurance? You'll never be able to get it on your own."
"Well, if you want to hustle for clients for a while, that's your choice."
"Do you really want to work twice as hard for half as much money?"
And their questions weren't totally off base. Yes, for the first six months I
struggled to get health insurance
(and I still worry about what will happen to my coverage if healthcare reform is repealed). Yes, I spent a year taking whatever work came my way. Yes, I initially worked twice as hard for half my full-time salary.
But these were only temporary problems. They worked themselves out over the course of a year, as I persevered. But if I'd listened to my naysayers, I would have waited at least that year working a job that I hated before I made the move to consulting. I would have lost a year to fear when I could have been working on my dream instead.
This year, I have a new dream. It's big and scary and requires me to leave a lot of my current, comfortable life behind. This time, I'll be much more careful about who I share it with. I want it to grow and develop without threat of death. I want it to grow strong before it's questioned.
My point is this: protect your dream. Treat it like a seedling, with gentle watering and not-too-harsh sunlight. Protect it from the people who will question it, belittle it, tell you you can't or won't or shouldn't do it. It's a dream. Odds are, you already know what can go wrong. Instead, figure out
how to get started
, identify potential traps (and solutions) and surround yourself with
people who only want to see you succeed
.