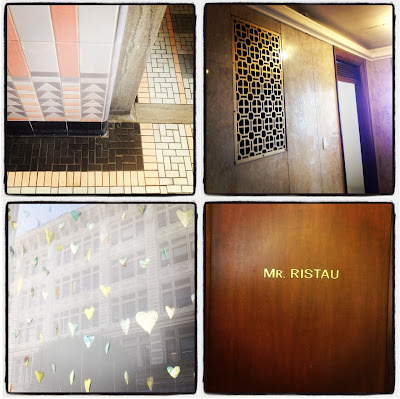 Hearts photo – gallery window on Broadway
I'm obsessed with Downtown Los Angeles these days. It started with the building Stacy's office is in, and continued when I visited Charlie's loft. And this past week, I had to go back to LA when my dad had to have emergency surgery. I'd been toying with the idea of moving to LA for a while, but this trip back made me think that it's about time for me to make that leap. Oh, and buy a loft downtown.
Now, I've always thought of myself as a house-with-a-garden kind of girl, but the rise of old buildings converted to lofts in Downtown Los Angeles (along with the emergence of walkable neighborhood and a hot art scene), I can see myself living in a high-ceilinged, airy loft in the old Bank District. Or the Warehouse District. Or, quite possibly, the Jewelry District.
Of course, this all means saving up money for a down payment, leaving my San Francisco life, and plopping myself down four miles from where I grew up in LA. Ah. Well… it is time for a big change. And I can't think of a better place to make this change than an area I've seen morph repeatedly over the past 37 years.
This change is at least a year away, but – oh! – I'm already dreaming of this move.