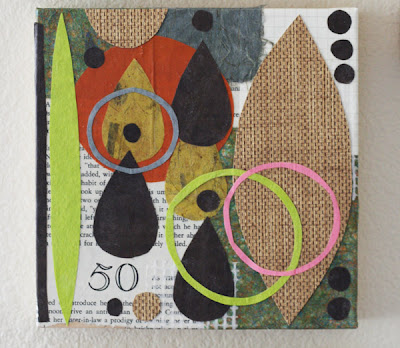 Almost every morning, Jake and I walk in Golden Gate Park. Our path is largely the same each time. We walk under a small grove of redwood trees which, having collected moisture from the air throughout the night to irrigate  themselves, plop large drops of water on our heads. We walk past eucalyptus trees, our feet crunching over the trees' long, skinny leaves. We walk next to a sluice green pond, where the soft landing of ducks sends concentric waves across the otherwise-still surface of the pond.
Drops. Skinny leaves. Concentric circles.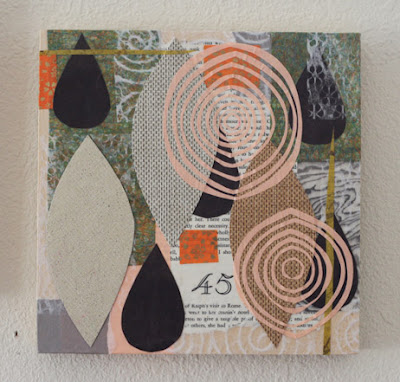 It wasn't until this weekend, when I passed the pond that I really, consciously saw the concentric circles for the first time. Everything snapped into focus – not just the circles, but the large drops of water and the long, skinny eucalyptus leaves. I've been drawing these for a few months now. They're the recurring themes of my new collages.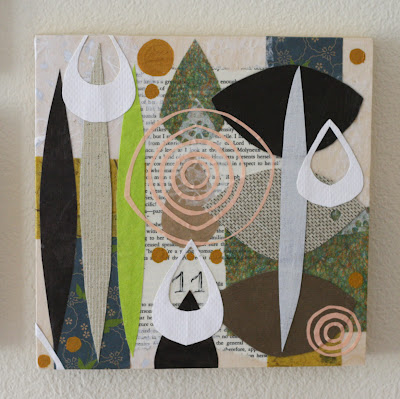 I had a long talk with Tiffany recently about how I work toward my goals without being conscious that that's what I'm doing – and then I suddenly realize that I've arrived at the place I want to be. I suspect that, for me, inspiration works in much the same way. I don't look at something and think "Oh, that inspires me!" No. Rather, I see the same thing every day, it seeps into my subconscious, then appears in my work as if out of nowhere. I'm okay with that. I'll take it.
Oh, inspiration, you – you're a sneaky thing.