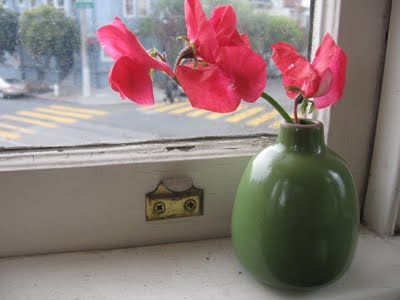 I bought myself an inexpensive bouquet of flowers from the neighborhood florist last week. As the shop owner started to wrap my bouquet in mounds of pink tissue paper, I told her, "The flowers are for me and I'm just going a block. You don't need to wrap them up."
She looked at me and said, "Sometimes it's nice to get something pretty for yourself."
I let her give my bouquet the full pink treatment.
As I carried my loudly pink bouquet home, I started thinking – how often have I said that since something is just for me, it doesn't need to be anything special? How many times have I sold or given away every last print or bag that I've made, leaving myself with only the misprints?
I'm not a spendthrift. I buy a lot of my clothes secondhand. My kitchen is stocked with friends' castoff pots and pans. My car is eleven years old. But, yes, sometimes it's nice to have something pretty for myself.
I decided to practice not being stingy with myself. And so I got a pedicure from the fancy, neighborhood spa. I indulged in a tube of French hand lotion. Yesterday, as I was walking through the Ferry Building, I decided to buy the Heath Ceramics vase I'd been eying for weeks (which, incidentally, was a very affordable $22).
I feel a wee bit spoiled, but quite content. I spent my money wisely, and I'm all the happier for it.