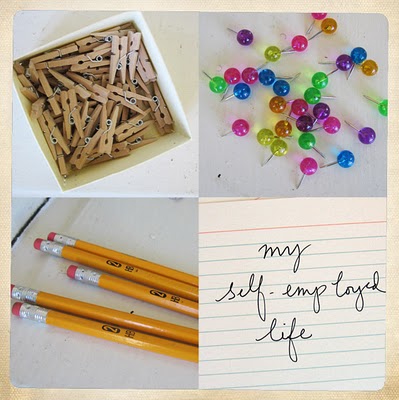 This week has possibly been the most challenging one since I became self-employed (again). I ended a client relationship, and promptly realized how behind I was with my other clients. Another incident made me realize that I need to formalize my consultancy by getting business insurance ASAP. Renegade is in two months and I haven't figured out what I'm going to sell. And, in the midst of all of this, I'm helping with a workshop at the Museum of Craft of Folk Art this week. I realized – rather late – that I should create a promo postcard for my prints business to pass out to workshop participants, so I cobbled something together late Monday night.
But I'm not complaining.
I heard through the grapevine that the company I worked for a year ago had a big round of layoffs today. I remembered my own layoff (from another company) over two years ago. And while I sympathize with everyone who lost their jobs today, I remembered how much my own layoff – and the subsequent time off – changed my perspective on time and work and caused me to align both with my values (which is a subject for an entirely different post).
 But I'm not gloating.
This week has been so hard. I wish it had been easier. But I'm also really thankful despite the challenges of this week, I know that I'm on the right path. There hasn't been a time since I started my dual consulting/artist journey ten months ago that I've wanted to quit. I've had difficult discussions with clients, printed late into the night, written blog posts three hours before my self-imposed deadline, not because someone else told me I had to, but because I knew these are the things I needed to do to grow. I have put some really hard work into my work. But discipline and persistence have made good things happen for me.
I don't know if there's a deep takeaway from this week's post. I feel a tremendous amount of gratitude despite all the challenges. There's something in that – a kernel of peace and knowledge in the middle of activity and stress.  I give thanks, not because this path is always easy, but because even when it's not, I'm not discouraged. I've found my place.