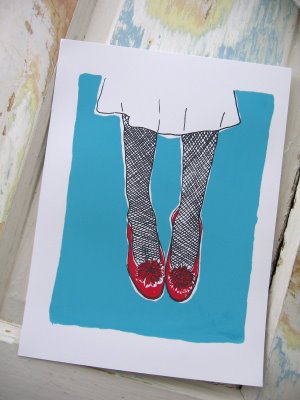 I'm starting a new series of posts called "My self-employed life" (or MSEL) about, well, my self-employed life. Okay, I realize I could have worded that description way better, but I've been struggling with writing the introductory column for this series for over a week now, so I've decided to follow my first rule of creating:
"Keep moving forward."
This is a phrase that I repeat to myself whenever I feel stuck. It's a phrase that I heard over and over again when I was working a job that was absolutely the wrong fit for me (and which I left after five months to start consulting). It's a phrase I say when I'm working with a client and my to-do list looks so overwhelming that I have no idea how I'm going to get everything done in the amount of time I've allotted to that client that week. It's what I've taped to the wall of my studio, jotted in my sketchbook, clipped to my desk lamp.
"Keep moving forward."
This movement is so important to creating – not getting hung up on unimportant details, not being derailed by fear. And when I think about my self-employment, I am overcome by the notion that this path was a deliberate attempt to create my own life. Creating my own life means following a path that's right for me (which, in this case, means working as an artist and as a consultant). It means moving forward through the fears that I won't have enough money (so far, I've had enough), that I won't have enough ideas, that I won't have enough talent to be able to do the work that pays the bills.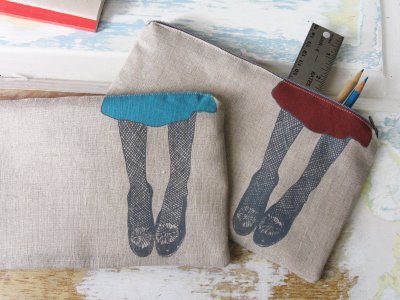 So I've decided to write this weekly post about my self-employed life to share with you how I got here, how I'm progressing, and what I'm learning. Because I'm incredibly practical, I'll talk about sometimes-scary things like money and health insurance. And because I'm sometimes silly, I'll probably also talk about gold paint, the word "flummox," plastic doilies and all the odd things that inspire me.
I'll post every Thursday starting in February. I hope you'll join me.  Until Thursday, friends!
p.s. I thought it fitting to include images of my fishnets prints items because this image was one of the first prints I made. It's the first thing I ever printed on linen, the first print that my first wholesale customer bought. It continues to be one of my most popular print – and I think it embodies the idea "Keep moving forward" perfectly.