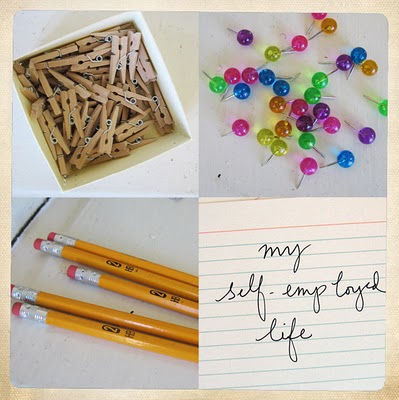 Oh, health insurance. If you're American, you have to worry about health insurance. If you're self-employed, it's an even bigger worry since health insurance has been designed to be administered through large employers.
As part of my HR consultancy, I help small businesses identify and set up health insurance plans. It's one of the largest (and most unstable) costs that employers face, so it's no surprise that it will be one of your larger expenses when you're self-employed. I often wonder how entrepreneurship in the US would change if we all had access to affordable, decent health insurance, and didn't have to rely on a job to keep it.
Oh, and here's an embarrassing revelation: I don't have health insurance.
I ended up uninsured through a couple of missteps on my part, and also through the byzantine ridiculousness of the American health insurance industry. Yes, I'm being judgmental here. I'm a very healthy thirty-something who has a couple of minor, preexisting conditions that apparently make me a high-risk (and expensive) insuree. I've applied many times and keep getting rejected. It's not fun, but it is a wee bit scary.
I realize now that there were a few things I could have done while I was insured to prevent my current situation. If you are considering leaving a full-time job to work for yourself, here are a few steps you can take now to keep your health insurance during the first year or so of your own self-employed life (note that these are suggestions only, and that you should weigh all your options and consult with experts before making a decision):
1. Find out how much your company-sponsored health insurance premium is. Your company's HR or finance person will know this. Depending on the size of the company you work for, you may be eligible for COBRA after you leave. You'll have to pay the full premium amount (at the group rate), plus a small management fee (usually 2-4%) to keep this coverage. If you're eligible, and if your employer offers more than one plan, consider switching over to the plan with the lowest premium during your next open enrollment. You may have higher co-pays or deductibles, but your up-front out-of-pocket premium will be much smaller. Find out when your company's next open enrollment is (again, talk to your HR or finance person). If you're looking to switch insurance plans, you'll need to stay with your employer until after open enrollment. 


2. If you have a spouse (or domestic partner in some states), you should be able to go onto his or her company-sponsored plan after you've left your job and lost your insurance. You will probably have to contribute a portion – or the whole amount – of this premium, so find out what that number is so you can budget accordingly.

3. If you feel that your group insurance premium is too high, or if you're not eligible for COBRA, start looking into individual plans at least six weeks before you plan to leave. You can go through an online broker (eHealthInsurance.com is an example), apply directly through the insurance provider (Blue Cross, Blue Shield, and Kaiser have their own sites), or work with a broker (for example, the broker your employer works with).  Know that if you have ANY pre-existing conditions, your premium will likely be higher than the advertised rate. If this is the case, staying on COBRA or enrolling in your spouse's plan may be the most cost-effective option.
4. If you are eligible for COBRA and are awaiting a decision on an individual health insurance plan, you have up to 45 days to send in your COBRA paperwork and check.  I recommend filling out the forms, writing the check, putting everything in an envelope in a visible place, and telling a friend or family member where the envelope is. That way, if you have any medical emergencies within 45 days after you lose your employer-sponsored coverage, your friend/family member can mail it in and you'll be covered.
I realize that this is a lot of information to digest. In my experience, health insurance is a primary concern for many Americans – so much so that people don't leave jobs that they hate because they're worried about losing coverage. You will need insurance. Taking care of this while you still have coverage through your job, and knowing how much to set aside prior to becoming self-employed are so important.
If you're already self-employed and are struggling to figure out what to do about insurance, stay tuned. Next week, I'll discuss options for the self-employed (and self-insured).
Do you have tips or questions? Post them in the comments!
p.s. My canine studio assistant doesn't have health insurance, either, due to a few pre-existing conditions.