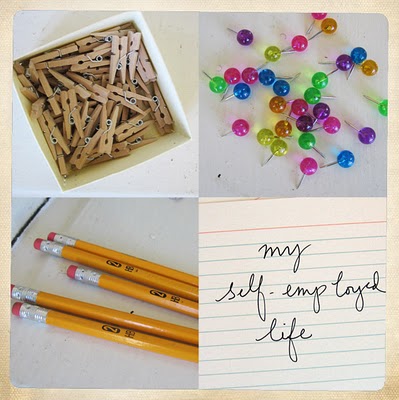 When I started writing about my self-employed life, I realized that
I didn't have a "traditional" path to self-employment – or to becoming an artist. I didn't start a tech company; I didn't come up with a revolutionary idea or invent an innovative product or develop a trendy style. I don't have an MBA or an MFA.
Rather, to my parents' horror, I was an English major in college – a degree that didn't lead to any definite career paths. After college, I seriously toyed with going to law school, even going so far as to take the LSAT and prepare all my law school applications. When it came time to send them out, though, I realized that I wasn't so sure about being a lawyer that I was willing to take on such a huge amount of debt and then be tied into a career path until that debt was paid off.
While I was busy not
going to law school, I worked for an educational nonprofit
and then for a private high school
.
Those jobs were wonderful experience
s
for me – I wrote newsletter
s
, worked on grant proposals, coordinated conferences, led trainings, did high school admissions, and created databases. I got to wear so many different hats and developed a lot of skills that I continue to use today. Somewhere along the way, though, I decided I wanted to be a graphic designer.
I didn't have any formal graphic design training, and I was too junior for even an entry-level position as a designer. This was during the start of the dot.com boom and lots of people were starting their own businesses. I'd always been entrepreneurial, so I decided to save up my money and start a business of some sort. A stationery business seemed like a good fit – I'd always liked making my own cards and stationery and I preferred to create products for resale instead of creating collateral for clients. So I quit my job and jumped into that, not knowing much about how the industry works – or even the first thing about how to prepare artwork and files for print – but I somehow made it work. Of course, I made a ton of mistakes that first year that continued to haunt me for the next three years. But I was making what had been a dream just two years prior into reality.
After four years of that (which really should be the subject of another post), I burned out, sold the business, and went to work for someone else. I was in a lot of debt and had to have a job. Plus, I was scarred enough from the experience of mishandling my business that I doubted my
entrepreneurial abilities.
Ironically, after being the sole artist for my stationery company, I still wasn't qualified for a design job. I was, however, very qualified to do HR, operations and finance at small
, creative, tech startups. I found that I loved that work, too – I could wear lots of hats, learn new skills and move up the corporate ladder. But I really missed being creative – especially since I was working with interactive designers – so, on a whim, I started silkscreening. I did it as a weekend hobby, daydreaming about quitting my job and consulting part-time, and screenprinting with the rest of my time. Two months after the stock market plummeted to its lowest point in years, the company I was working for failed to be acquired, went bankrupt, and laid off all its US employees.
By the time I was laid off, I'd been working in the corporate world for five years. I wasn't happy with the path my "career" had taken. I was burned out, often too tired and too stressed to make time for my creative life. I saw the layoff as an opportunity to change directions.
I admit that I was lucky because the salary at my last job had allowed me to pay off my business debt and save a decent amount of money. And because I was debt-free and had an emergency fund, I was in a much better position financially than many other people who were affected by the economic downturn. I could take a little time off to regroup and figure out what I wanted to do next. I started going to the screenprinting studio at least twice per week. I also continued to interview for jobs that were much like the one I'd lost; however,
the jobs just didn't feel right anymore.
During that time, my silkscreen work started to get noticed. It was featured on blogs; I was asked to participate in a group show. I started to feel more and more confident about my skills – and about my ability to one day make a living as an artist. But I also was really concerned about my finances. My savings was running out. Right around that time, I got a full-time job with a company that turned out to be the absolute wrong fit for me. After I'd been there for four months, a couple of friends who had a growing food production company asked me if I'd be interested in being their part-time HR consultant.
And – something that I can't believe today – I resisted their offer for two months. I'd thought that I needed to stick with my full-time job to save up more money. The role they'd proposed to me only required a few hours each week, which wasn't enough to pay my rent. But then they introduced me to their neighbor, who also needed an HR consultant. I would earn just enough to pay my rent, and had money saved for another three months of expenses. I knew the quick progression of consulting gigs – two in one week! – was a sign for me to take that leap and trust that I'd be able to survive as a consultant.
Someone once told me "When you take a leap of faith, the universe provides a safety net." Within six weeks of starting my consulting career, I met another consultant who also worked with my two clients. He introduced me to another small food company and I started working with them soon after. This led to other, one-off gigs. I now have three regular clients. I work on-site with them three days each week, and usually spend another half day working from home working for all of them. It's really an ideal schedule – three-and-a-half days of client work, three-and-a-half days of artmaking. I do occasional consults for companies that have HR issues that can be resolved with a one-hour phone call. But I've turned down potential clients because I'm not willing to expand beyond three-and-a-half days of client work.
I've often said that I don't have a set career path. Instead, I like to find work that is interesting and challenging and which allows me to grow. This can mean starting a business, being an artist, working as a consultant – or doing all three. Moving around has really served me well. I feel very resourceful, and confident that I will always be able to find work or create opportunities for myself. My "path" so far has been about
laying the groundwork so I can take leaps of faith and know the universe will give me that safety net.
I think that's what being an artist is – consciously creating my life instead of just blindly following a path.
So, here I am. I'm an artist and a consultant. My dual careers mutually nurture each other. My consulting currently provides enough income for me to live pretty comfortably. My art provides enough nourishment for me to occasionally deal with the emotional heaviness that HR consulting can bring. And yet I'm the same person for both – compassionate, disciplined, level-headed, professional, and smart. My life is (amazingly, miraculously, usually) balanced. I am grateful for my amazing network, for the job and life skills I've developed on this path, and, most of all,
for the courage to take leaps of faith.
This post is an excerpt of an interview I did for Michelle Ward's fantastic blog. You can read the rest of the interview here.