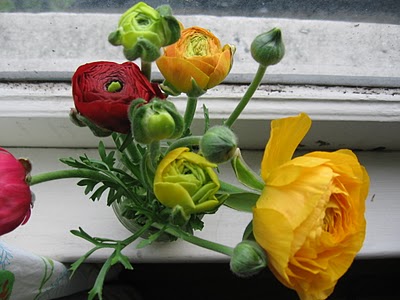 Anemones, ranunculus – these are my two favorite flowers. Others may love peonies and roses, but my tastes are far less pedigreed. Give me a bouquet of bulb flowers, I once told a boyfriend, and I'll know that you know who I am.
Anemones and ranunculus always remind me of the winter of 1995. I was 20 then and living in Paris. It hadn't occurred to me until I lived in France to buy my own flowers, and to buy them every week. But these flowers were sold for 25F ($5 back then) at every corner stand and I always found enough money in my budget to buy a bunch. Whenever my new friends visited my tiny studio for un cocktail or a dinner of cashew chicken or ginger rice soup (the only two dishes I could prepare at that time), they would bring me a small bouquet of anemones. When I realized that buying and receiving bouquets of flowers was a part of my Parisian life, I went to Prisunic to buy a vase – the very first one I would ever buy myself.
Unlike me, these flowers are early bloomers. In 1995, in the middle of the first (and only) cold winter California me had ever experienced, they showed up, riotous and showy, against the gray Parisian skies and dour Parisian faces. They reminded me that it wouldn't always be so cold, that I wouldn't always feel so lost, that I, too, could settle into my new surroundings and become someone new – older, worldlier – and yet still be me.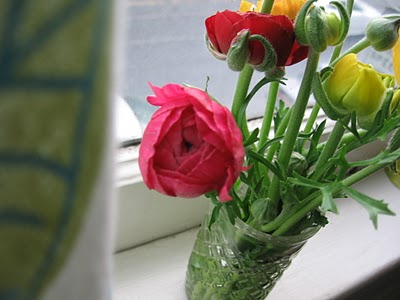 And in 1995, I fell in love for the very first time. Not with someone who brought me flowers or made me feel like a grownup, but with someone who was just as much of an awkward, foreign, late bloomer as I was. Thankfully, it didn't last (thankfully, these things never do), but when it ended I felt older and wiser and still like myself.
More than fifteen years later, I'm grateful that I'm a late bloomer. At 20, I'd wished I were more like my classmates – sophisticated, jaded, intellectual. However, that's not who I was. Surround me now with bouquets of early bloomers and I'm still me. I appreciate – love – these flowers for their beauty, for the memories of my incredible time in Paris. But I love these flowers even more for the reminder of just how much I've grown, and, as I've slowly bloomed, how much more I've become comfortable being me.