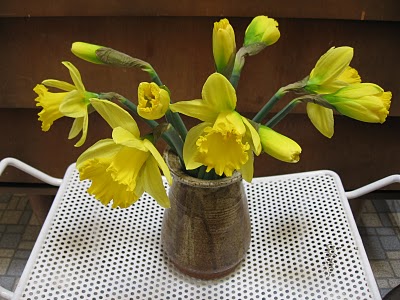 When I was in college (go Bears!), the hills above the university would erupt in daffodils sometime in March. Soon after, sororities would host their "Daffodil Days" spring fundraiser, selling bunches of the flowers on Sproul Plaza to raise money for charities.
I think most everyone associates daffodils with spring; these cheery flowers also remind me of the promise of spring break, of my late aunt who kept bouquets of them around to cheer her while she was battling cancer, and of falling in love for the first time in Paris (where the flowers are called "jonquilles").
Paris seems to be on my mind a lot these days – not just because of my new print, but also because it has been 15 years since I was last there. Fifteen years! I think I need to go back there soon. But, until then, I'll indulge in some French link love:
Garance Dore's always amusing fashion blog
Rita Crane's "Paris Postcards" series
David Lebovitz's hilarious tales of his American-in-Paris life.