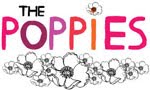 I've been nominated for a Poppy in the "affordable art" category – yay! If you'd like to vote for me (and I hope you would), please click here.
What are the Poppies? Well, it's a virtual awards ceremony of sorts celebrating the Handmade Community. I think there are prizes involved – but really, it's an honor just to have been nominated.
One vote per computer, and all votes must be cast by February 5th.