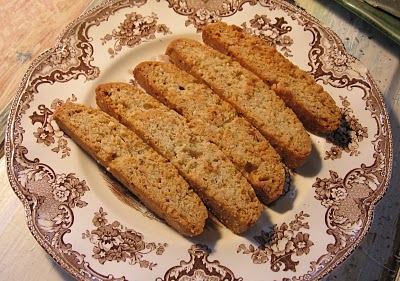 I had a rough day yesterday and all I could think on the bus ride home was, "The only remedy for today is mandel bread."
Now, this may sound strange coming from someone who is black and Filipina. Mandel bread (or mandelbrot) is a traditional, Ashkenazi Jewish cookie made with almonds (mandel), oil, sugar and eggs. Twice baked and not too sweet, it's very similar to Italian biscotti. But my mom (who, incidentally, makes a delicious matzo ball soup) got the recipe from Sister Philippa, a nun at the neighborhood convent, tweaked the recipe a little bit, and made it all the time when I was a kid.
I've only really appreciated mandel bread as an adult. My mom makes it with walnuts (which, I suppose, makes her version nussbrot rather than mandelbrot) – and since I was (and still am) deathly allergic to walnuts, I had to steer clear of the cookies.
But now that I'm a grown-up, I can make it with almonds. There's something incredibly satisfying and precise about making this cookie – from the shaping of the dough, to the careful cutting of each cookie. It's not like making, say, a chocolate chip cookie, which can be flubbed a little and ultimately rescued with good chocolate. Mandel bread's ingredients are rather humble. And you have to watch mandel bread in the oven, removing it three different times to make sure you get it just right.
As a (slight) aside, I think that one of the reasons books like "Julie and Julia" and "A Homemade Life" appeal to many women is this idea of cooking as both creativity and control. When everything around you seems to be going wrong, you can at least express yourself and have control over a small – but important – part of your day. Bad day at work? Make a soup. Boyfriend broke up with you? Bake a cake (trust me – it works).
Other people's emergencies become your problem? Make mandel bread.
In the end, you'll get a little bit of serenity and a whole batch of cookies.
Stella Hewett's Mandel Bread
1 cup oil (use a good quality oil; I prefer a peanut oil or an almond oil)
3 large eggs
3/4 cup sugar
1 tsp lemon extract
1/2 tsp vanilla extract
3 cups flour
1 tsp baking powder
1/2 tsp salt
1 cup almonds, coarsely ground (I prefer the blender to a food processor to do this)
1. Preheat oven to 350F.
2. Mix dry ingredients in a small bowl.
3. In a large bowl, mix oil, sugar and extracts. Because there's no butter in this recipe, it's easy to mix everything by hand.
4. Add eggs, one at a time.
5. Add dry ingredients to the oil and sugar mixture. Mix until blended.
6. Add almonds in 2-3 batches. Mix well.
7. Line a cookie sheet with waxed or parchment paper.
8. Divide dough in half. Place each half onto the cookie sheet and form them into long loaves (each should be around 3.5-4-inches wide).
9. Bake loaves for 24-26 minutes, or until lightly golden brown. A toothpick inserted into the center of a loaf should come out clean.
10. Slice each loaf cross-wise into 1/2-inch pieces. Flip each slice onto its flat side on the cookie sheet. You will probably need two sheets to do this.
11. Bake for 12-14 minutes, or until lightly brown.
12. Flip each slice over onto its other flat side and bake an additional 10 minutes.
13. Remove from oven and cool on a wire rack. Cookies should be stored in an airtight container.