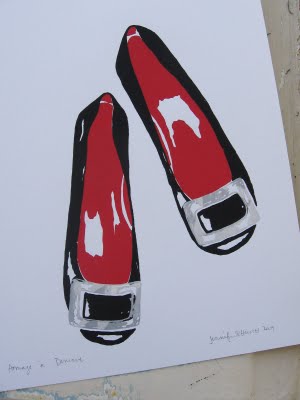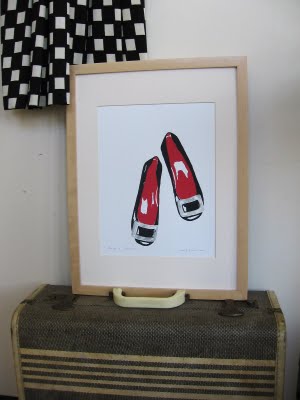 I've watched Belle de Jour a few times, and I've never really been disturbed by its premise. That's probably because I'm too focused on the outfits. Yves Saint Laurent designed Catherine Deneuve's wardrobe, which is full of perfectly executed, staple clothing. If I had to wear the same, five things for the rest of my life, I'd be happy with a trench coat, a couple of shift dress, and Belle's Vivier "pilgrim" flats.
In the absence of a couture wardrobe, I created this print. And I'm really, really happy with the way it turned out. I experimented with how I applied the ink for the silver buckle and love how reflective the buckle looks.
On a related fashion note, I'm obsessed with liebemarlene's flickr photostream. She has a great eye for vintage fashion – and manages to keep her outfits from looking kitschy.
My Homage à Deneuve print is available here.