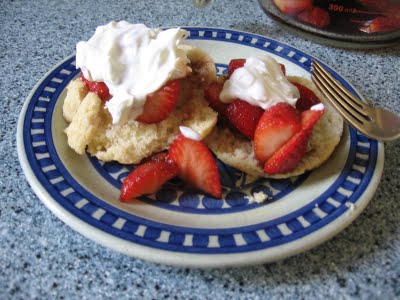 This week has been the Week Without Butter. The WWB wasn't intentional – I'd just run out of it and kept forgetting to pick some up at the market.
But I desperately wanted a sweet yesterday. I had biscuits, strawberries and whipping cream (I may run out of butter, but I'm rarely without a carton of cream or half and half). Of course – strawberry shortcakes!
So easy to make, so delicious, and so healthy (okay, I made that last part up. But they do have fruit and dairy…).
Here's the recipe:
Strawberry Shortcake
2 cups strawberries, washed, hulled and sliced
2 tablespoons sugar
1-1/2 tablespoons balsamic vinegar (you can 1 T substitute lemon juice, if you'd like)
1/2 cup whipping cream
4 biscuits (I used this recipe)
1. Heat the biscuits in a 350F oven for 7 minutes, or until warm.
2. Mix the strawberries, sugar and balsamic vinegar. Set aside for 10 minutes.
3. Whip your whipping cream by hand, or using a hand mixer or blender.
4. Slice biscuits in half. Top with berries, then with whipped cream. You can put jam on the biscuits before adding the berries, if you'd like.
That's it! Recipe serves four.