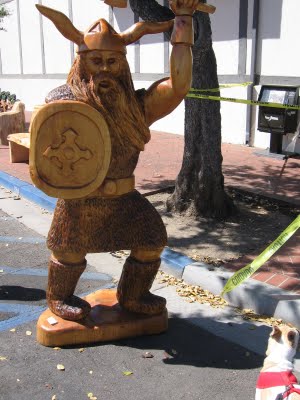 Jake and I are visiting my parents in LA right now. I drove down, and decided to take Hwy 101 instead of my usual Hwy 5. 101 is farm more interesting – the route meanders through actual towns, unlike the 5, which only passes huge farms and truck stops.
Most importantly, 101 takes you to Solvang. Solvang is a ridiculously kitschy, faux-Danish town in the middle of Santa Ynez wine country. I don't know how Danish immigrants ended up in the Santa Ynez valley. I'm not even sure that there were any actual Danes in the area to begin with. It may all be a silly tourist trap created by Scots.
But I had to go back to Solvang to see if it had changed any since I was a child. And thankfully, it hasn't. Same cheesy stores with Nordic names (but which, strangely enough, sell New Age crystals, Rocky Mountain Fudge, and Swiss Army knives). Same restaurants that sell abelskivers and Danish sausage (yum). And I arrived on the eve of Day One of Danish Days.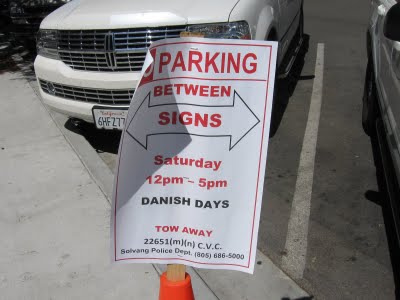 Unfortunately, I had to leave before Danish Days began. Which is a bummer – I really wanted to walk from booth to booth eating more abelskivers and sausage. And, most importantly, I really wanted to bid on the carved wood statue of a Viking in the festival's silent auction.
Well, maybe next year…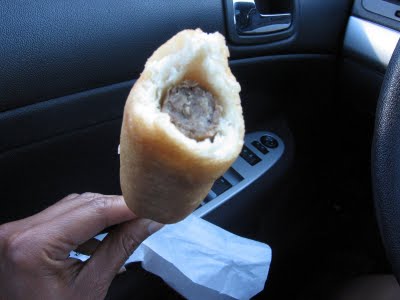 Fueling up for the trip: sausage dipped in pancake batter, then fried.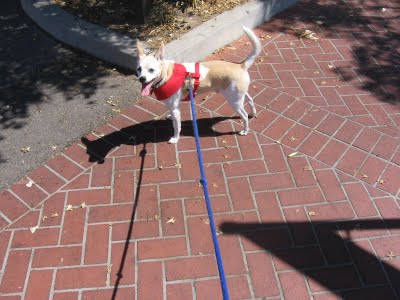 Jake's wearing his Danish colors.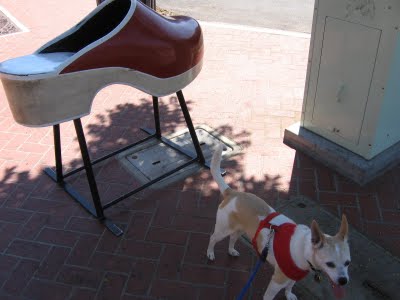 Shoes for one-legged giants.
By the way, Jake was the only dog in town who was walking on his own four legs. Every other dog was either being pushed around in a stroller, or carried in a Baby Bjorn-like pouch. Then again, I was half the age of the next oldest tourist in town, so I really shouldn't be surprised that the dogs weren't as… active… as Jake.