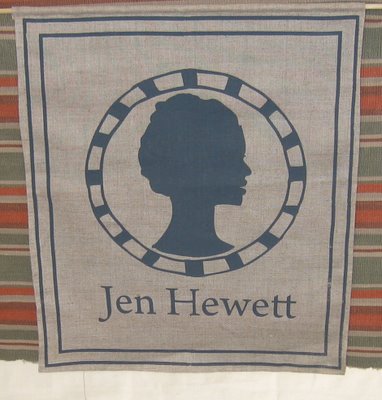 In the flurry of activity before Renegade, I managed to finalize my logo. It's a silhouette of me when I haven't cut my hair in over a month. And it's in a cameo format (a nod to the cameo ring I wear every day). Of course, this logo meant that every other person who came to my booth said "and you must be Jen…"
But now I may be incognito. I finally got a haircut yesterday – at the barbershop. I've been going to the same barbershop ever since I cut off almost all my hair twelve years ago. The guys are so used to me that they forget a woman is in their presence after about five minutes, when they resort back to guy talk. It's at that time that I get a glimpse into guy world. Among yesterday's topics of conversation:
The Pacquiao fight in Vegas next month
Food Network (they all love Food Network. A couple of the guys have dreams of hosting a show about grilling.)
Lunch options (they start this discussion at 9:30 am every day. I've been there at 1:30 pm when they still haven't come to a decision)
Rihanna's incredibly skimpy outfit at the Vegas Jay-Z concert (a nightie worn over pasties – "I can't believe she thought that was appropriate attire outside the bedroom. Not that I'm complaining.")
Chris Brown ("Now he's apologizing? He's just now sorry, and only because his career is tanking? Man…")
Last night's Giants-Braves game
Lunch again ("I'm tired of barbecue. The line's too long." "What? You stand in line for other things – to go to the bathroom at the game, to get a drink at a bar. Why you complaining about standing in line for ribs?" At this point, it's 10 am. They have at least three more hours of this discussion)
I loved going to the beauty salon as a child, too – my Granny used to take me to hers, which was called "Mantrap." The name was apparently such a big draw that Mantrap II was opened just down the street to handle any overflow. The salon gave me a glimpse into the world of grown-up women. But now that I have easy access to that world, it's fun, just for half an hour each month, to go over to the other side. Plus, it gives me the chance to catch up on back issues of FHM and Maxim while I wait. I can always read Cosmo at the nail shop.