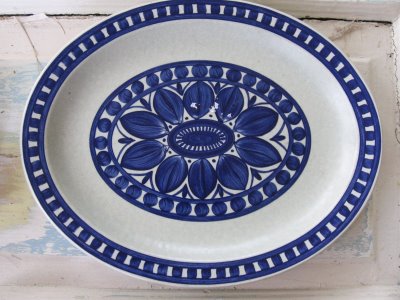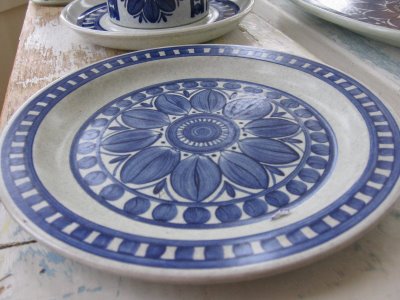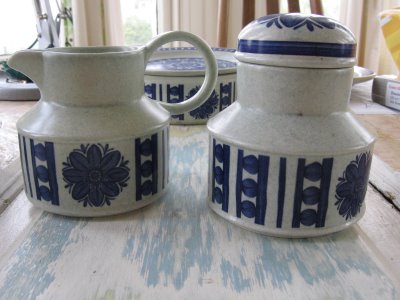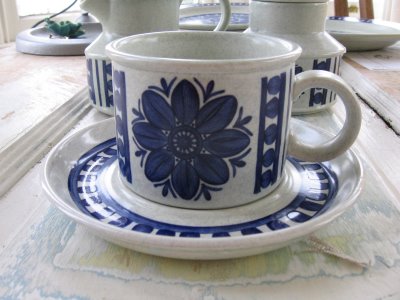 I am irrationally happy about my latest thrift store find – a 52-piece set of dinnerware by Midwinter. It's the Blue Dahlia pattern designed by Jessie Tait. I looked the artist up, and she designed numerous tabletop and ceramic pieces, including these vases (which I will look for on another thrift adventure; I'm not holding my breath, though):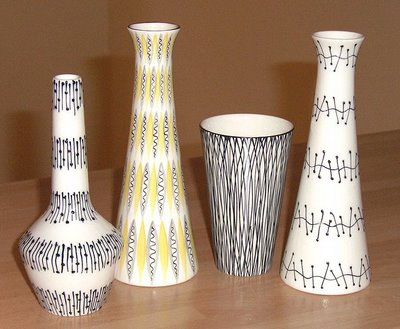 Photo licensed under Creative Commons Attribution License.
Original link to photo
here
.
I've written before about how much I love blue and white china; this is exactly the type of design I've been looking for but didn't know existed. When I saw the set at my favorite thrift store, I called my mom to ask her if she and my dad would "give" me the set for my birthday (I'm a thoughtful daughter – I'm sparing my parents the effort of finding me a present, and the expense of mailing it to me). It wasn't expensive at all – it's less than the price of one table setting that you'll find on most wedding registries – and when I looked up the pattern on replacements.com, discovered that I'd paid about a tenth of what the set is actually worth. Gasp.
I did also discover that I'm missing a few, key pieces – egg cups, a vegetable dish, and a set of casseroles. I'm sure that with my luck, they will turn up on the street or at Goodwill. Or next to my birthday cake.