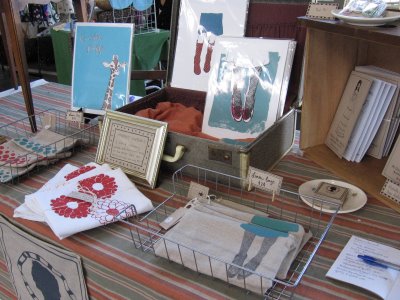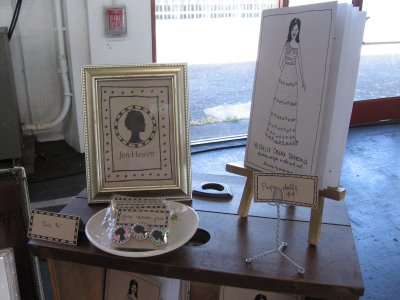 Renegade was so good. Like insanely good. Good as in I sold out of many prints and now must go back to the studio to print more (more on that later).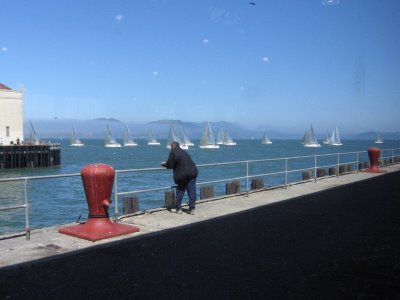 And good as in I had a booth next to a door that looked out onto the Bay. A qualifying event for some sailing race must have been going on this weekend because many gorgeous sailboats with matching sails would pass just outside the dock the Festival Pavilion was on.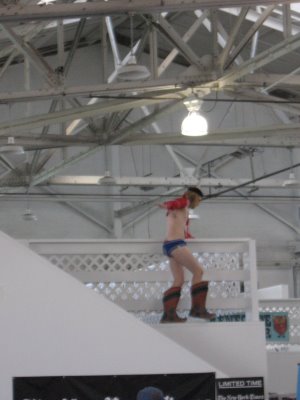 This guy? I'm still not sure what he was doing. But a guy wearing a beret and some superhero Speedos can be sometimes be good.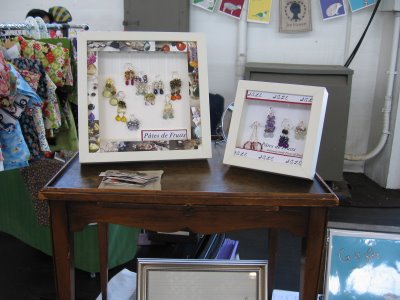 And also good because I got to "model" some sparkly earrings from Pates de Fruits. P de F and I "shared" the booth. Yvonne (Ms. P de F) was on a family vacation in Florida, but she was there in spirit.
Anyway – the show… a big "thank you" goes out to everyone who stopped by. I ran into many, many old friends, made a few new ones, and had a most excellent time with you all. The biggest thank yous are reserved for my friends Katie, Basak, Julie, Christine and Steph for keeping me company during the long show days.
Okay, I'm pooped. I'm going to curl up on the couch with Mansfield Park, eat a bowl of peach crisp, and contemplate a long bike ride. Tomorrow, I must figure out my print reprint production schedule – but today, I noodle.