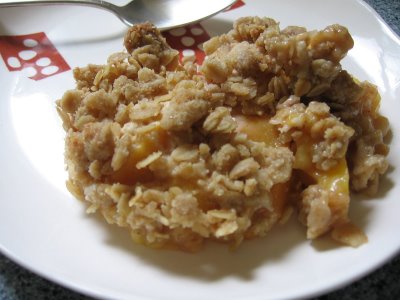 When I was a kid growing up in LA, my Granny would make peach cobblers all summer long. She had a peach tree, which supplied her with the ingredients for her cobblers (she also had a lemon tree, which supplied one ingredient of her special "lemonade" – vodka with lemon and ice – but that's a story for another day). I've never really understood why Granny called her cobbler a cobbler – she made it with pie crust instead of biscuit dough – but it was delicious, whatever we called it.
Now that peach season is in full swing, I'm making peach pies and jam and crisps. The following recipe makes a great pie filling, but if you're not in the mood to roll out a dough, top it off with some brown sugar, butter and oatmeal for a crisp. The crisp is great for breakfast (hey – dessert for breakfast is no worse than eating a Pop Tart or a sugary cereal. Plus, this has fruit in it). I'm just including recipes for pies and crisps; I need to find my Granny's biscuit recipe (and try it out a couple of times) before I share that recipe here.
Peach pie/cobbler/crisp filling: 5 cups ripe yellow peaches (around 3-4 lbs of peaches), pitted and peeled
1/2 cup sugar (more if the peaches are tart)
2 tsp lemon juice
1 tbsp flour (more if the peaches are really juicy)
1/4 tsp cinnamon
1/8 tsp nutmeg
Mix all ingredients together. Taste a slice of peach and adjust sugar and spice levels to taste.
Pie crust recipe: 3 cups flour, sifted twice
1 tsp salt
1 cup shortening, at room temperature (Yes, that's right – shortening. Granny grew up in Texas during the Depression. There was no butter. If the thought of shortening turns you off, you can substitute butter. A butter dough will be way harder to work with and it might not be as flaky and light.)
1/3 cup water
Heat oven to 400F.
Mix flour and salt together. Mix in shortening – you will need to work it with your hands until it's crumbly. Add in water, 1 tablespoon at a time.
Lightly coat a smooth surface with flour. Divide the dough into two balls and roll out each into 9″ rounds. The key when making a good dough is to use as little flour as possible while retaining elasticity. Line a 9″ pie pan with one round of dough, add filling and a couple of tablespoons of butter (optional), then top with the pie with the remaining dough. Pinch the edges. Bake for 20 minutes, or until the edges are lightly brown.
Crisp topping recipe: 1-1/2 cup flour
1-1/2 cup uncooked oats
1 cup brown sugar
Pinch of cinnamon (optional)
1 stick butter, cut into pieces, at room temperature
Heat oven to 400F.
Mix first four ingredients together. Add butter and mix until the mixture is moist. Pour prepared peaches into an 8″ square dish. Cover with crisp topping. Bake for 20-30 minutes, or until topping is lightly brown.
Serve any with ice cream (particularly good with breakfast). If you're feeling frisky, pour yourself one of Granny's special lemonades. Enjoy!