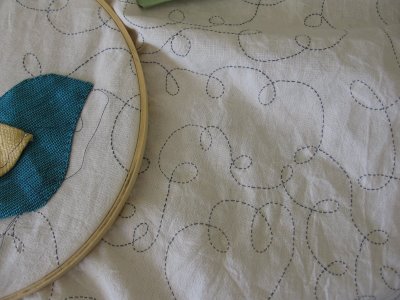 Last week, I stopped working on a quilt. I'd been working on this quilt for two weeks but no matter what I did, I just couldn't get it to work. The background embroidery was too busy, the colors didn't work, the layout was off… So I put it aside, saying I could come back to it later. I wasn't ready to admit that the quilt was unfixable, that I'd spent two weeks on something that I was never going to finish.
But what happened surprised me – I started a new quilt, one with the same theme as the old one, but with different colors and fabrics and layout. After five days, it's about half finished. I'm excited about it; I look forward to painstakingly doing the topstitching or sewing on appliqués.
So, these quilts have become a metaphor for my life of late. I spent years working in jobs that frustrated me, that made me want to cry at times, that caused so much stress that I got sick. There were rewards – I worked with some amazing people, learned a lot, had a nifty title, and got paid pretty well. But in the end, no matter how much work I put into that career, it was never going to work. It took getting laid off, and then spending a couple of months decompressing (while looking for similar jobs in similar fields), to realize that I couldn't go back to that life.
And what has come of this? Well, for one, I have time to make quilts. And I have time to cook and see (and enjoy) my friends and spend time at the Japanese baths and bike around the city in the middle of the day. I have time to volunteer for a cause I believe in.
I'm not rich; I'd saved up a small emergency fund, which has allowed me to take my life a little slower than I had been. Amazingly, the movement in my life has actually sped up. Contract opportunities have come out of nowhere. I sold a bag that I hadn't yet listed on etsy. I'm writing a lot in my blog. And I'm making incredible progress on my quilt.
What I'm trying to say – albeit circuitously – is that I've learned that it's okay to change course, even in the middle of a project. It's okay to abandon a project or a goal or a job or a career when it no longer fits me. Experience is experience, and that's all. It doesn't have to dictate what I'm going to do next.
I do have a few ideas about what I'm going to do next. I'll probably write more about them. But first, I have a quilt to sew.