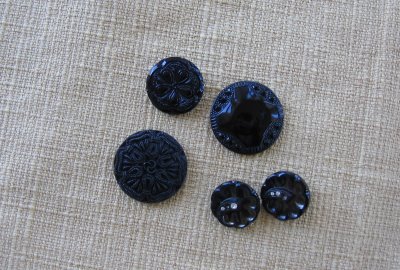 I visited a beading store on the Peninsula this weekend. The store had a big bowl of vintage buttons, and since I'm a sucker for vintage buttons, I bought a few. They were fifty cents per gram – and how much can a button possibly weigh?
Well, twenty-five ounces. I ended up spending $12.50 for nine buttons. I was tempted to put them back because they were so expensive, but decided to support a small business with my purchase.
The buttons ARE pretty. I haven't decided what to do with them. They'd probably look good on a purse… or a hat.