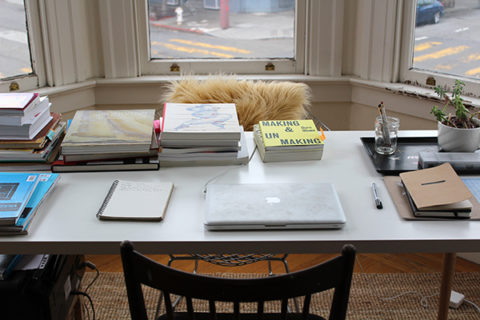 When I moved to San Francisco in 1996, I hadn't planned to settle down here. The city was merely a stop on my way to something else – law school, a Fulbright, maybe a few years in New York or Paris or London. I had moved here because it was an affordable, walkable city in California that was decidedly not Los Angeles, where I'd grown up, and which I'd worked so hard to leave.
But with some distance from school, my plans for my life disappeared. And San Francisco in the late 90s was a very good place to be a broke 20-something. My friends and I worked for nonprofit organizations or taught or had entry-level administrative jobs. We did all the things you do when you're young and broke – drink cheap wine at picnics in the park, bike to the beach, go on weeklong backpacking trips (piling into the car of the one friend who owned a car). We went to a friend's favorite dive bar on $1 can night, pooling our leftover laundry money until the bartender, sick of our quarters and dimes (laundromats still took dimes in those days), cut us off.
*****
San Francisco allowed me time to grow up, evolve. I worked in nonprofits and education, started and closed a business, fell in and out of love, got a corporate job, adopted a dog, was laid off, became a working artist.
But I've changed, and so has the city.
*****
I was walking Gus the other morning, and a neighbor who I'd never before spoken with stopped me and said, "You've been here a long time."
"Yes, 20 years," I replied.
"Me, too. Do you have rent control?" she asked.
"Yes. I want to move, but having a rent controlled apartment holds me back."
"Yes, I'm in the same boat. There's a whole world out there, but once you leave SF, you can never come back."
*****
Minutes later, I turned the corner, and ran into one of my few black neighbors. When she saw me, she laughed and said, "We're still here!"
"Yes, but just barely!" I laughed in return.
"Ain't that the truth?"
*****
This month, I move out of my 54 square foot studio on my service porch, and into a larger art studio – which is the second bedroom of my two-bedroom apartment. It had been my drawing studio and my sewing room in previous years (I used my dining room for printing), back before I had the kind of art practice I have now. The decision to get a roommate again a couple of years ago, after almost ten years of living alone, was a largely financial one: I'd wanted to reduce my day job hours to focus more on my art work, and having a roommate to split rent and expenses would allow me to do this. I reasoned that, if my practice grew, I'd get a studio someplace else.
My practice grew far more quickly than I'd imagined, and my tiny studio became too small for me to print yardage comfortably, or to produce projects for my upcoming book. But studios in San Francisco are no longer as affordable – or as plentiful – as they were two years ago, and commuting to a studio outside the city would mean spending hours driving, and a lot of money on gas and tolls. I realized that the most cost-effective studio space would be my second bedroom.
*****
So I asked my roommate, a public service employee in her mid-twenties, to move out, knowing that I was displacing someone who would now need to find another apartment among San Francisco's very tiny affordable housing stock*. I did not take this lightly; my own fear the past ten years has been that I myself would be evicted from my rent-controlled apartment to make room for a new occupant. I had a lot of empathy for her. But I also knew it was a decision I had to make.
(*Because of the type of lease I have, I'm the "master tenant" and legally have the right to select and evict roommates who are not on the master lease, as long as I create a sublease with them. And it ended up working out for my roommate, who got her dream job organizing for Hillary Clinton's campaign, and who is relocating to the Midwest through the election.)
*****
I write all of this because I've been thinking a lot about change and place lately. I've lived in San Francisco – in the same apartment – for my entire adult life. Having a stable place to live has allowed me to experiment, to change careers, to grow as an artist. But there *is* a whole world out there, a world where a mortgage on a house would cost half my monthly rent, a world that is diverse both ethnically and socio-economically, a world where I can continue this next phase of my creative life without having to worry about being priced (or forced) out.
And so I move into my new studio this week, knowing that it's just temporary, that there is another studio in another place in my near future. I don't know exactly when yet, though I do have some idea of where. What I do know is that I'm incredibly grateful for the life I've had in San Francisco, but so ready for the gifts this change will bring.