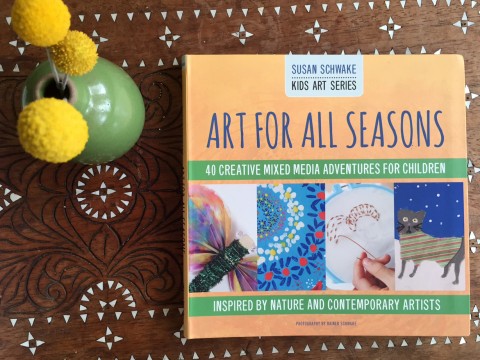 A few years ago, I took a printmaking class taught by Susan Schwake. I'd already been a printmaker for a while, but I'm always looking to experiment with new media. Susan and her class did not disappoint; her gentle teaching style is something I've tried to emulate as I've started leading my own classes.
We've stayed in touch over the years. In addition to running Artstream Studios, which houses a gallery and an art school, Susan also writes wonderful art books for kids (I gave her first book, Art Lab for Kids, to my nieces for their birthdays). So, when she asked me if I'd contribute a piece for her latest book, Art for All Seasons, I was incredibly flattered.
The bulk of the book contains 40 art projects, all crafted by Susan, for children. When I asked Susan why she decided to write a series specifically for kids, she answered, "My inspiration for writing the books came directly from my 20 years of teaching and interacting with parents wanting to do more with their kids (and for themselves!)…I had so many lessons that were tried and true that I made it into a series. My students both young and old continue to inspire me to write." Here's a little video about the book:
Art for All Seasons is a lovely book. It includes information on how to set up a simple home studio, a comprehensive list of materials, how to display and save kids' artwork and ideas surrounding making art with others. I'll be giving away a copy later today on Instagram.
You can also purchase a copy of Susan's book here or anywhere children's books are sold.