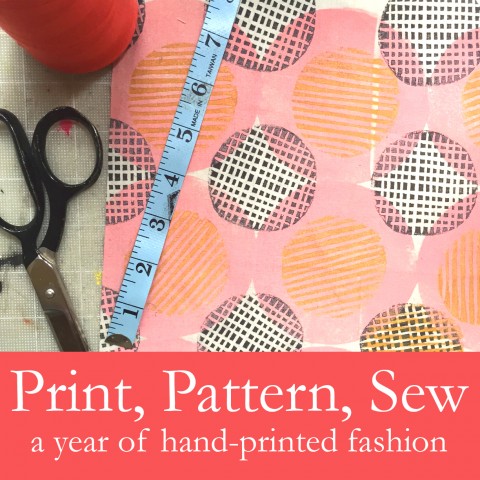 Finally, I get to talk about my project for 2015! Introducing Print, Pattern, Sew. Every month in 2015, I'll marry my love for hand-printed fabric with my love for sewing, and will sew a different garment created from fabric that I've printed.
There are a few parameters for this project:
The fabric must be screenprinted or block printed by me (i.e. no using Spoonflower);
Patterns must come from indie pattern designers or be self-drafted; and
The garment I create must be something I'd actually wear (i.e. no printed t-shirts).
This project will be quite a challenge for me. I'm used to creating designs with flat applications – bags, napkins, etc. This will be the first time that I'll have to consider how a print looks on a body. And, to be honest, this project is one that I find incredibly intimidating. I've never printed fashion fabric before. I don't know how (or even have the setup) to screenprint repeat patterns. I don't want to think about block printing large pieces of fabric in my tiny studio.
I'm doing it anyway. At this point, it would have been easy to do another 52 weeks of printmaking, but it's time to grow. When I mentioned on Instagram a few months ago that I was changing my color palette, and that it made me very uncomfortable, many people (presumably non-artists) asked me why. The simple answer is that I want to grow. My best work has come when I've tried new and scary things. This project forces me to try something new and scary every month.
I'll post January's garment on the 26th, and will continue posting final garments on the last Monday of each month. I plan to share information about the fabric and patterns along the way, which is my way of saying that I'll try not to wait until the very last minute to get started on my monthly project.
Happy 2015!